Origami Dinosaur Reader Photos Page 2
Here are the more recent photos of the origami dinosaur submitted by readers. Earlier submitted photos can be found on
Page 1
.
From Tyler in Gurnee: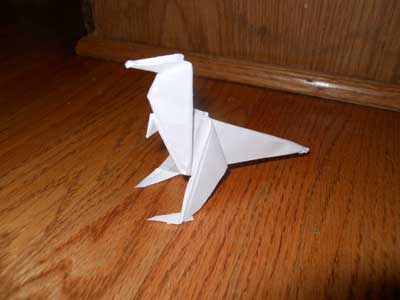 From reader in Ozamiz City: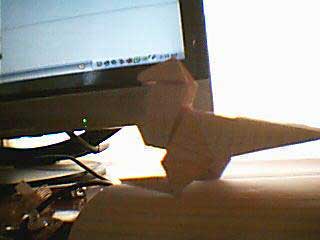 From reader in Rockton " This is my Origami Dinosaur.1st try too! Thnx for making the instructions easy. Very Fun! "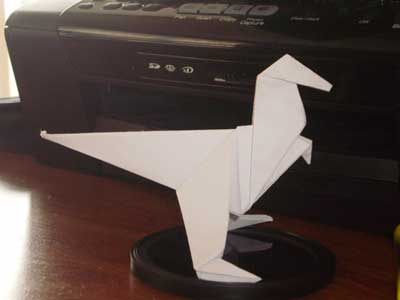 From reader in Crosslake " origami dinosaur! i made two and they're in love <3"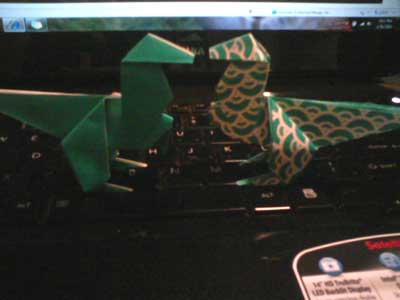 From Kellie in Plymouth: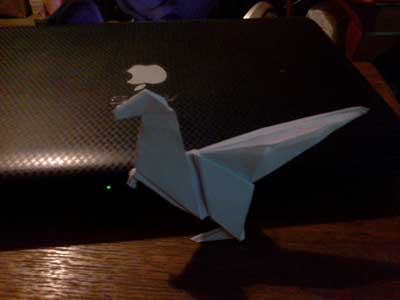 From Badger in Alexandria " Your T rex design along with my Brontosaurus design. I have made one less than 1" long but I gave it away so Ill need to make another, lol."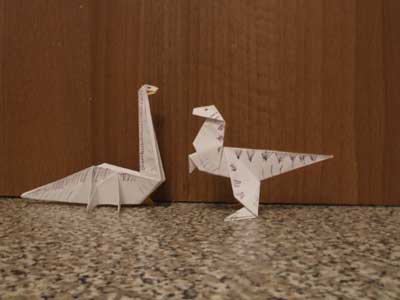 From Viggo and Vinh in Stockholm " Viggo 5yrs old made this dinosaur with little help from daddy.But Viggo painted the whole dinosaur by himself!:)/ "
Love the paint job, Viggo!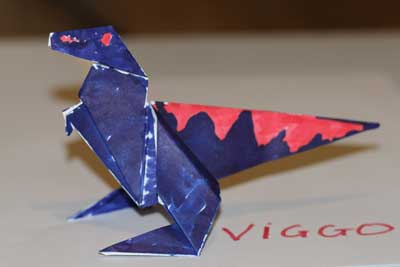 From Goni in Givataim: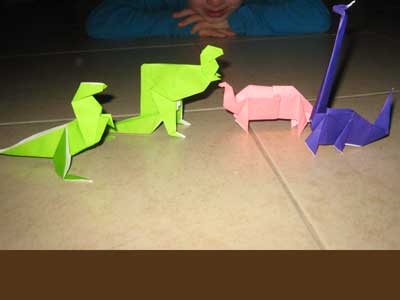 From reader in NC " This is a dinosaur I made out of foil paper. the dino has a mp3 player with the chord and headphones. The mp3 says ," a-ha take on me" with a 16_th note. I'm sorry the picture is bad. My camera stinks!!! "
Dino with mp3 player! Love it!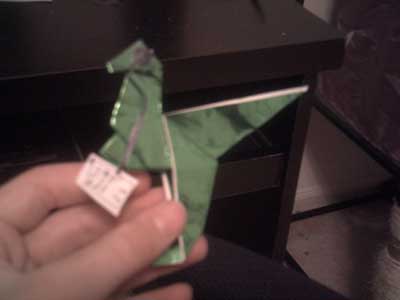 From Dito in Jakarta "Origami dinosaur"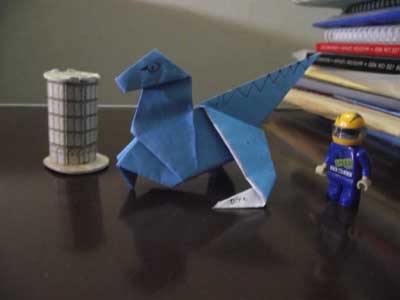 From Vessesh in Ooty, India " I am Vessesh from India.Your site is awesome!!! Your explanations are clear & easy! Thanx a lot!! "
Thanks Vessesh! Love your flowery origami dinosaur!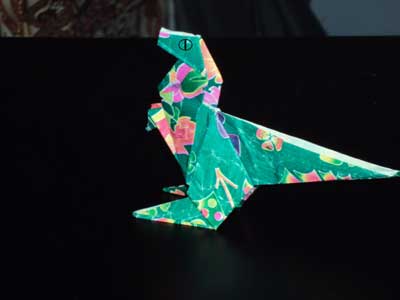 From Russell in Dhaka "Dinosaur! :)"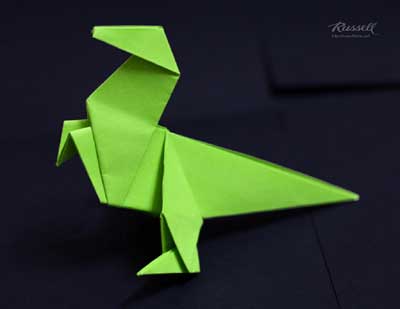 From reader in Kaunas " This is my origami female dinosaur. Her name is Eno :) I didn't really get the legs part, though, so Eno's legs are a bit simplier :( "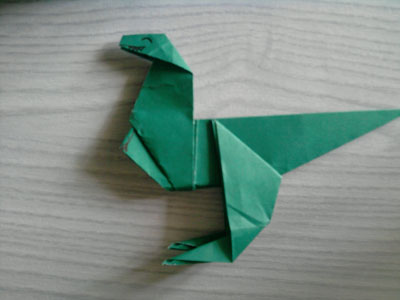 From reader in Swansea "

< Here is a picture of Jeffrey attacking the local scenery in Paris. "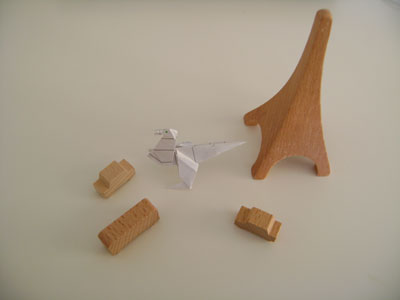 From Elli in Sheffield "A little origami dinosaur family!"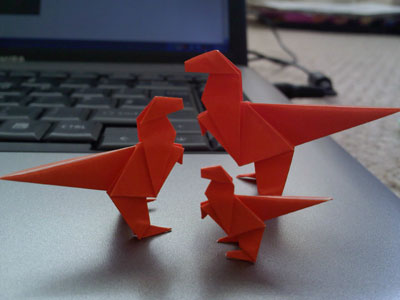 From Jackie in Worcester "Origami Dinosaur":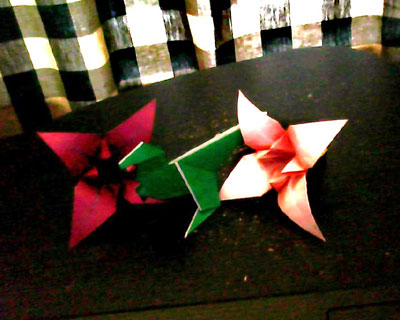 From Juley in Quebec " Ross' character dinosaur SHATTER, I destroyed the legs... great fun doing it.":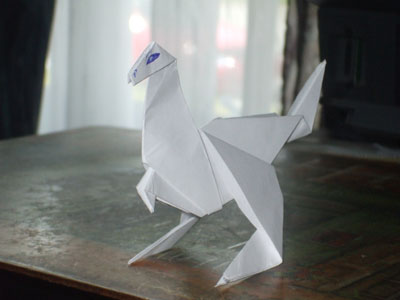 From Mary in Indiana "My dino."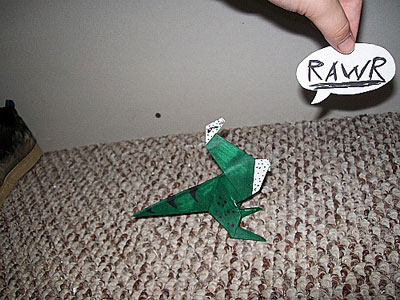 From EMi in Hilliard: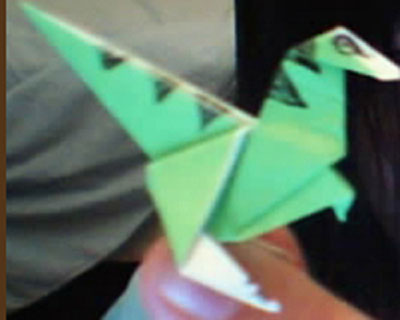 From Paige in Menomonee Falls: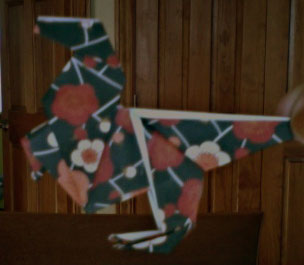 From reader in England: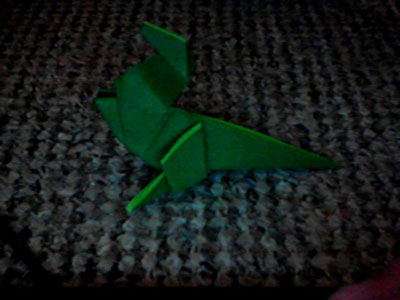 From Jessica in Plymouth "A horse turned into a unicorn in love with a dinosaur. "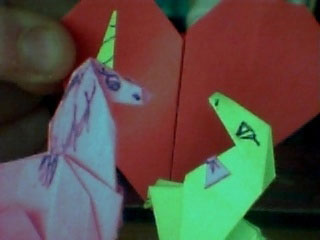 From Montana in Mountain Home " LolCakes! My First Dinosaur! Rawr! :}D "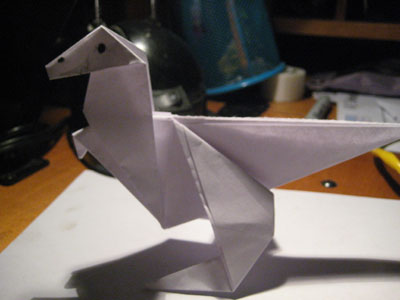 From reader in Mission BC " Origami Dinosaur playing the piano. "
That is one musical dino! :)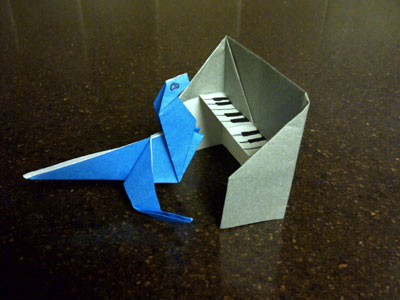 From Heiji in Penang " I made this Dino during my working hour.. He is cute right? Haha.. "
Very cute!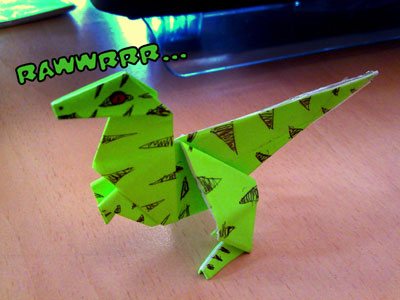 From Sydney in Golden CO " I always prefer to fold on smaller paper and I decided to try my hand at a dinosaur today! Green dinosaur on 4.7 cm metallic paper. "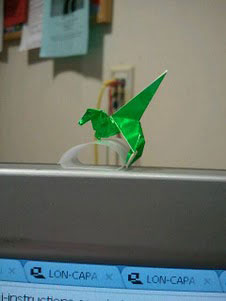 From Tutur in Solo: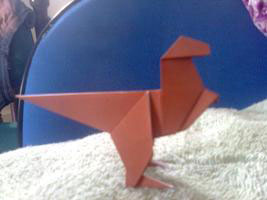 From Winsome in London " It was fun to make :] "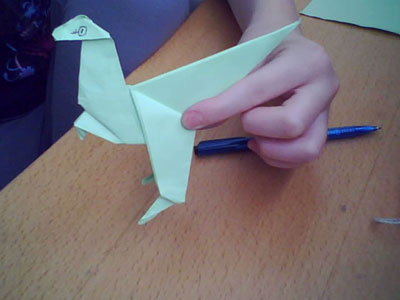 From Rey in USA: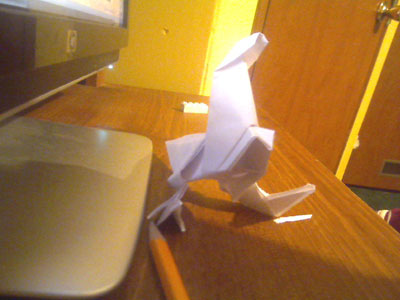 From Josh in Gilbert " My dino origami. The keyboard keys hold his feet together to keep him upright. On his own, his legs slide out from under him and his checst hits the ground like a deer on ice. "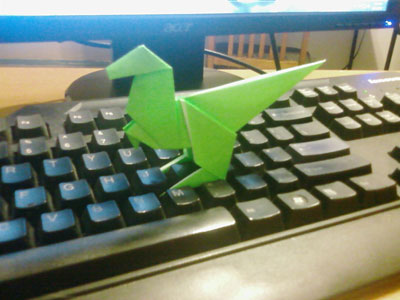 From Winnie in London "Origami dinosaur"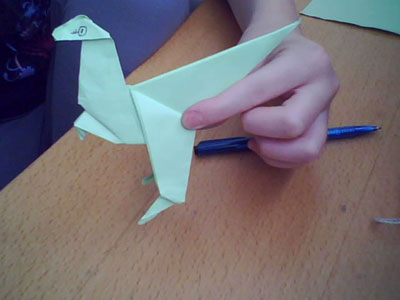 From Megan in Reading:
Hmm...is your dinosaur surfing? :)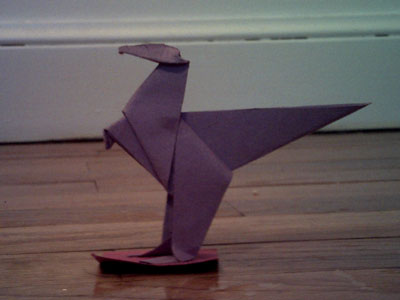 From Aadit in Princeton " This Origami is part of an exhibit held by 7 yr old origami artist Aadit Manyem. This exhibit is called the 'Tournament of the T-Rexes'. It shows a scene in which several T-Rexes have gathered and defeated another of their own kind. Hope you all like it. Thank you v (mom) "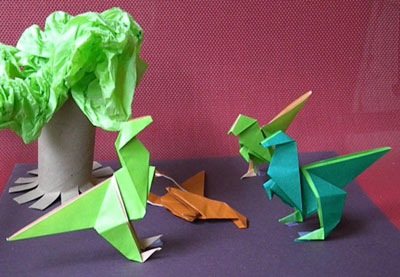 From Korine in Fort Bragg " the poor town of Randomness is about to be eaten by the very scary purple dino..... "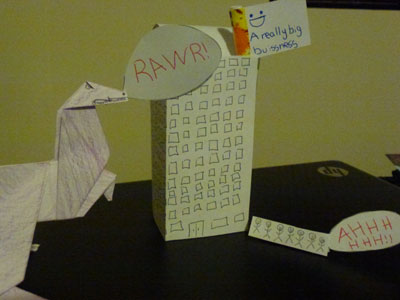 Did you make this origami? If so, upload your photo (2MB limit) via the comment box below. You can login with your Facebook, Twitter, Google or Yahoo accounts.