Origami Dinosaur Reader Photos Page 1
Here are the many origami dinosaur photos we've received from readers. It is definitely well loved!
Thanks to Trystan from Coeur d'Alene for sending in this pink dinosaur!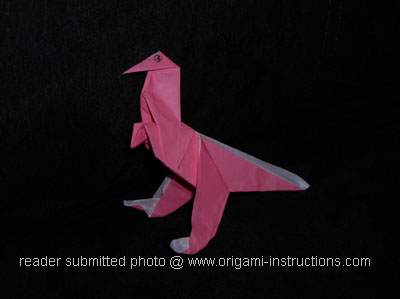 Thanks to Goran from Skopje for his origami dinosaurs!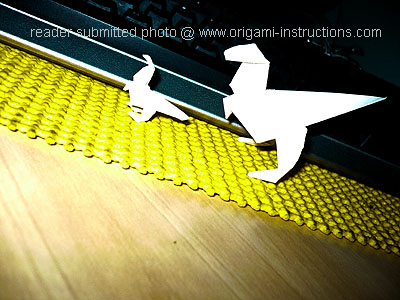 Thanks to a reader for this origami dinosaur: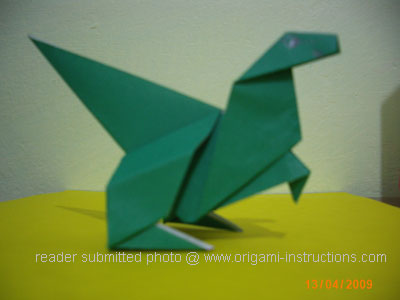 From Armin: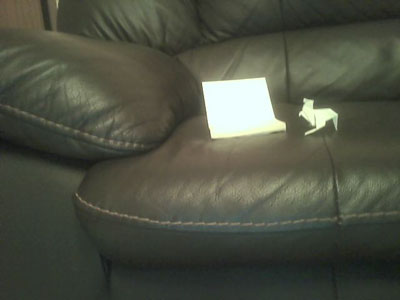 From Guro in Norway "Made this while being bored at work! Thanks for the tutorial!"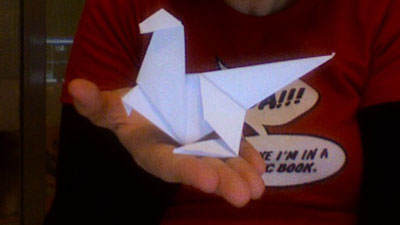 From Nikki in Perkinston:
From Nichole of San Antonio: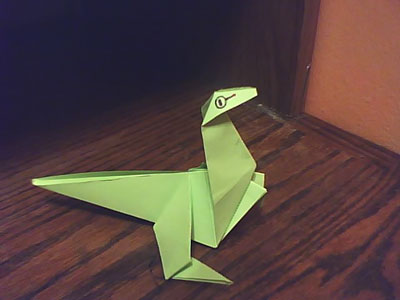 From Teodor in Iasi "This is my origami dinosaur.I've made it to look like my favorite dinosaur,Deinonychus.It is awesome!"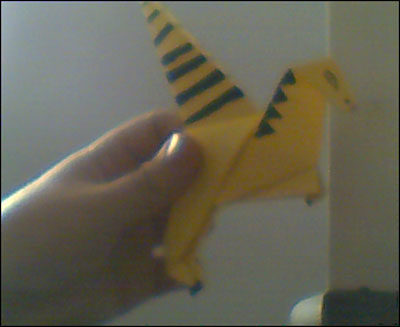 From Hazenne in Philippines: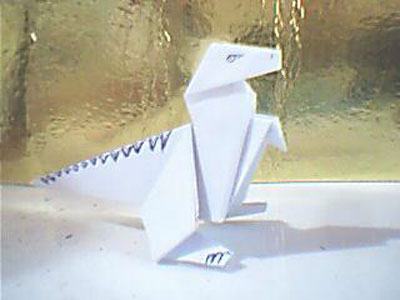 From reader in Penang " This is the king of dinosaur"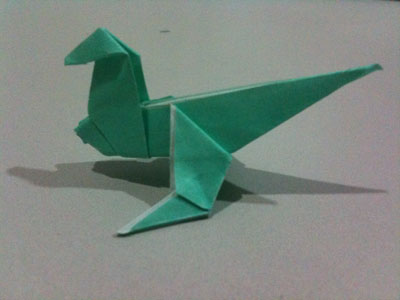 From Casey in Oro Valley: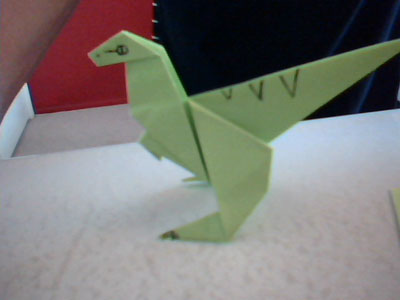 From a reader in Mapleton who made an origami dinosaur out of cardboard!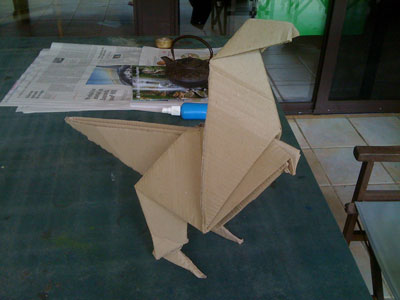 From reader in Newcastle: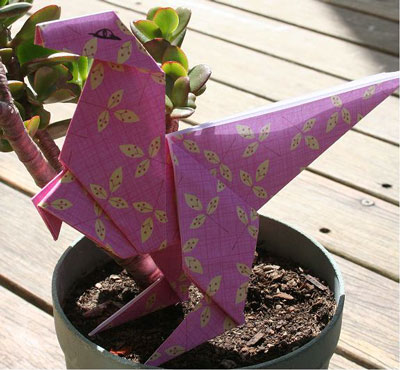 From Tiffany in Pullman: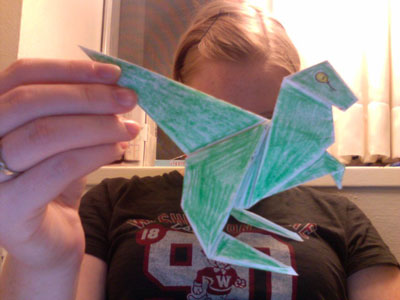 From April in Tamworth, Australia " I invented this origami T rex. it looks soooooooo KOOL!!!!!!! lov everone elses dinosaurs so keep making origami. "
Love your T-Rex, April!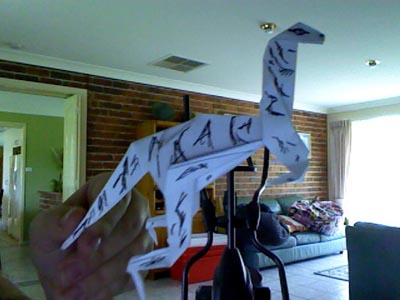 From Rebekah in Asheville: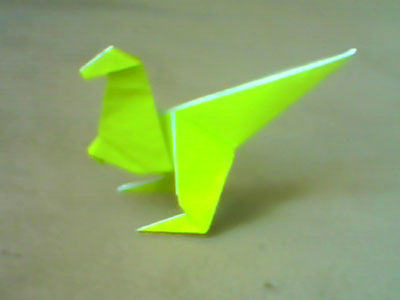 From reader in Esfahan: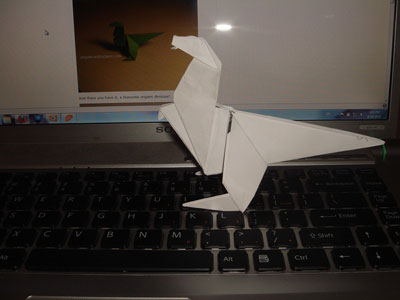 From Jennifer in Orlando: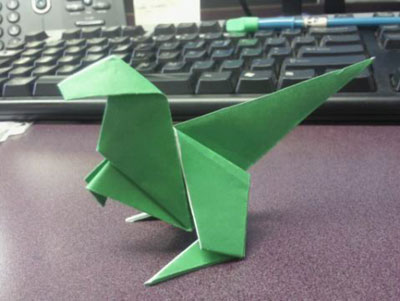 From Sam in Monterrey, Mexico " Used a bit of tape and added a hat for some style. ;) "
That's one hip origami dinosaur, Sam! :)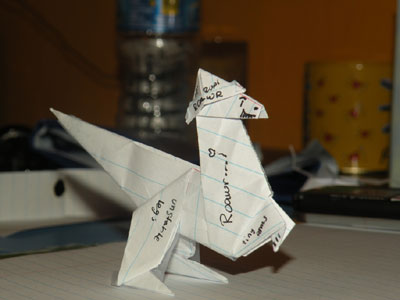 From Cameron in Denver " This is an origami dinosaur that I made at my house. "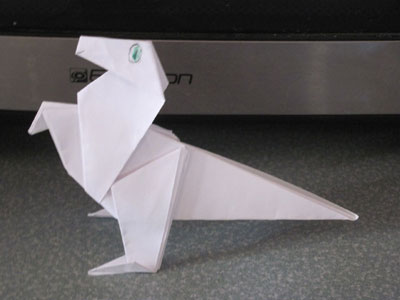 From Emma in Roeselare " My origami dinosaur! <3 It was a lot of fun to make :D Love the website + good instructions."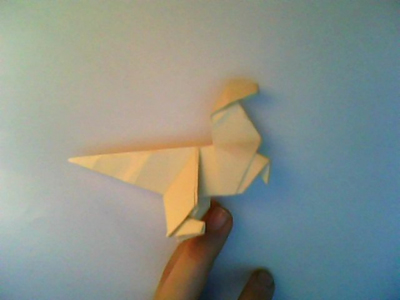 From Ethan in Wildwood " I made an army of oragami dinosaurs! "
You sure did, Ethan!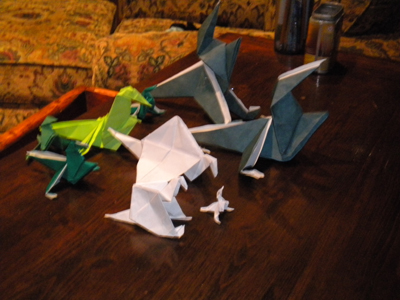 From reader in Doha "RAAAR! Origami Dinosaur..."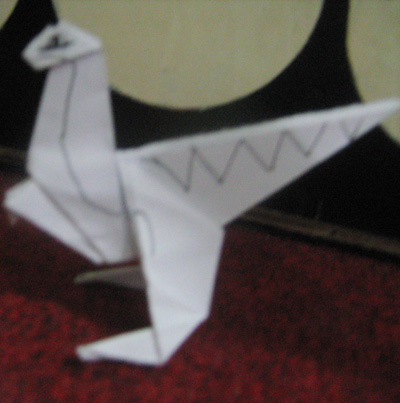 From Krystal in Galveston TX " Origami Dino :)"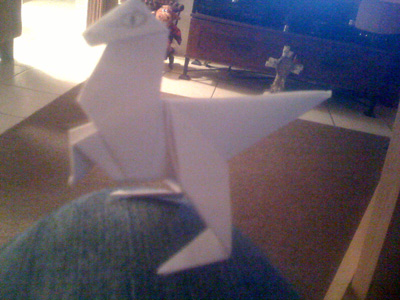 From Michelle in Davao City, Philippines " Thanks for making Origami fun and easy! "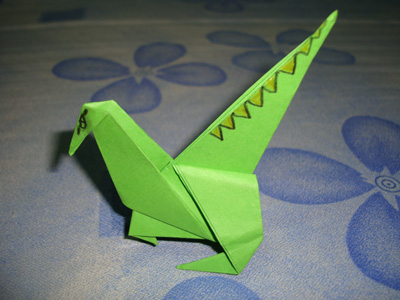 Did you make this origami? If so, upload your photo (2MB limit) via the comment box below. You can login with your Facebook, Twitter, Google or Yahoo accounts.