Origami Wedding
We were inspired to create this page due to the photos we received from readers such as yourself, of origami used in their wedding or their friend's wedding. We hope that this will inspire others who are considering making origami a part of their wedding and special day.
The obvious choice for origami wedding is of course origami flowers!
Barbara in Nottingham England "My friend ended up having two colour-matched wedding bouquets. The first, "live" lasted a few days. Mine, "kusudama" will last forever, if she keeps it dry! "
Barbara, Congratulations on your friend's wedding! What a great "forever" gift to a friend!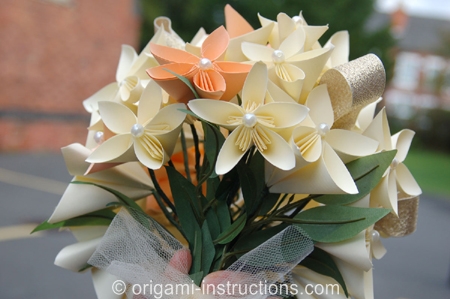 Anna in Barcelona "The past 29th of September, was my wedding, and these are the origami bouquets that I made for the decoration of the tables. The bouquet with the red flowers enveloped with white paper was my bridal bouquet. "
Anna, congratulations on your wedding! What lovely bouquets of kusudama flowers! Love the variety in sizes and colors!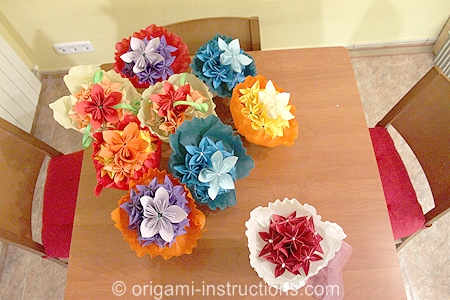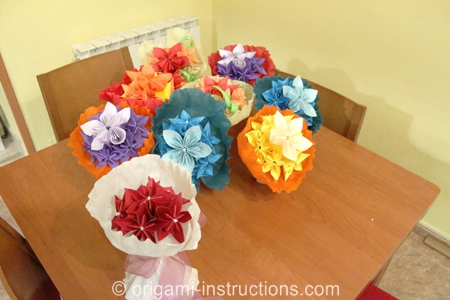 Dave in Greenville submitted this colorful origami centerpiece - "This is a mix of harebell, lily, rose, camellia, bell flower, daisy, simple eight petal flower, cornflower, and a couple of my own designs. This was the centerpiece on the bride and groom's table at my sister's wedding."
Dave, Congrats on your sister's wedding! What a great variety of origami flowers! Love the colors and arrangement!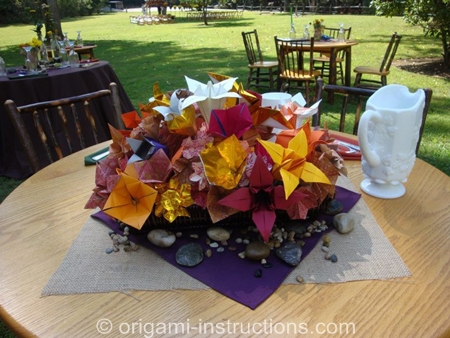 Heather is having an origami theme for her wedding and she plans to have origami boxes as wedding favors and origami flower bouquets as centerpieces. Congrats on your wedding, Heather, and thanks for submitting photos of your progress. Here are the origami twisty rose she plans to make into bouquet: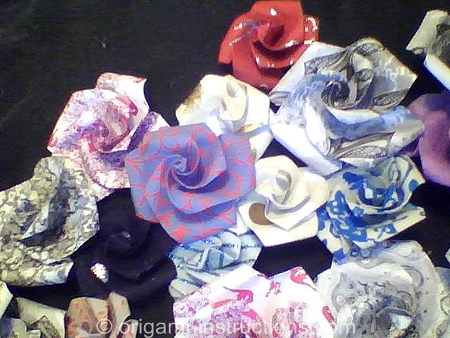 Kirsten's friend had an origami theme for her wedding with "birds for place settings, flower bouquet and table decorations". Thanks, Kirsten, for submitting photos of her wedding invites and flower bouquet!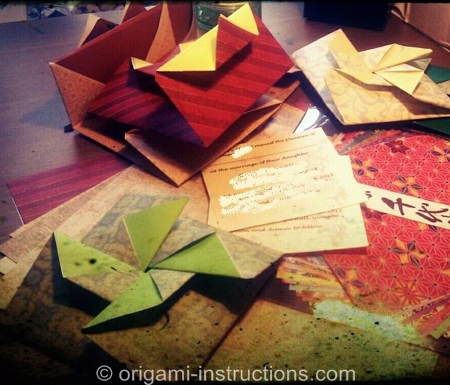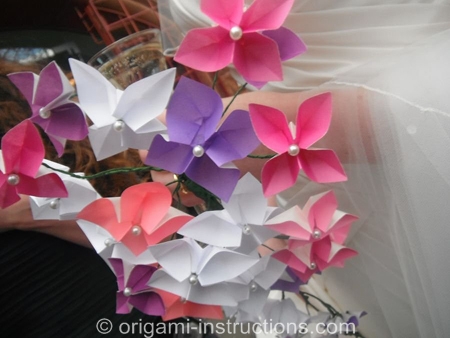 Lucie in London just submitted this beautiful bouquet of origami lilies "made for my bridesmaid. (still unfinished) to add to the style i painted on some yellow pollen and pink spots (this took me 5hours on and off to make but i think it is worth it as i love origami). 1 down 2 to go. i will also be making table centerpieces."
They look like real Stargazer lilies, don't they?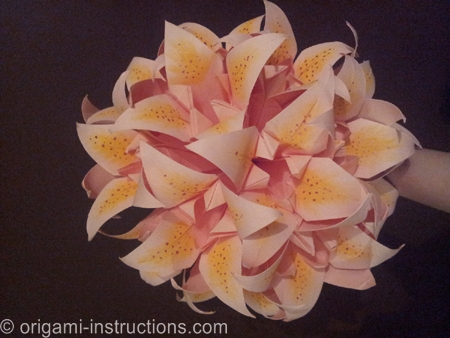 David and Helen in Stoke used our instructions for the origami lily and made many many lilies for their wedding!
According to them "Using the above instructions I made origami lilies from 2 1/2" squares up to 8" squares out of ordinary printer paper. I made two bouquets, two corsages and loads of table decorations which took me weeks but I got lily making down to six minutes towards the end. "
Six minutes per origami lily! Weeks folding origami lilies! This is really a labor of love!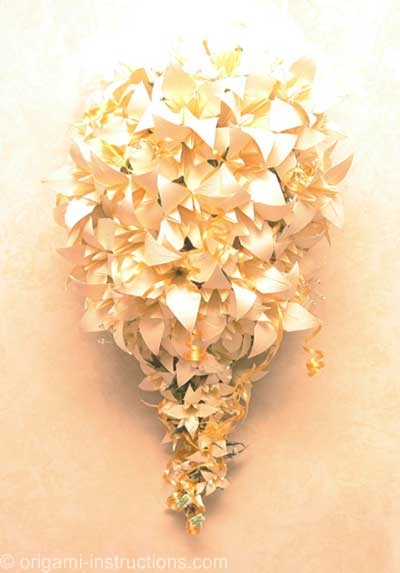 Here you can see the couple on their special day with the beautiful bride holding the bouquet of origami lilies "Our wedding day 29th January 2011"
They look so happy, don't they?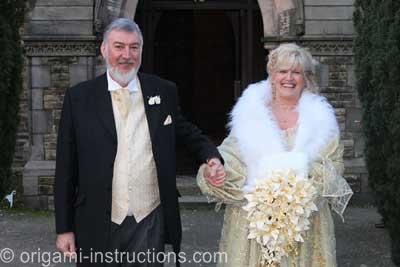 Next we have Kim in Tustin who "made origami lily bouquets and boutonnieres for my wedding, and they turned out very well!"
Don't they just look beautiful next to what looks to be a gorgeous wedding dress? As you can see, using different origami paper can really help transform the origami.
Different design paper, different texture, diferent colors, different sizes, different end result. You can personalize and make a one-of-a-kind bouquet of origami flowers by changing your origami paper.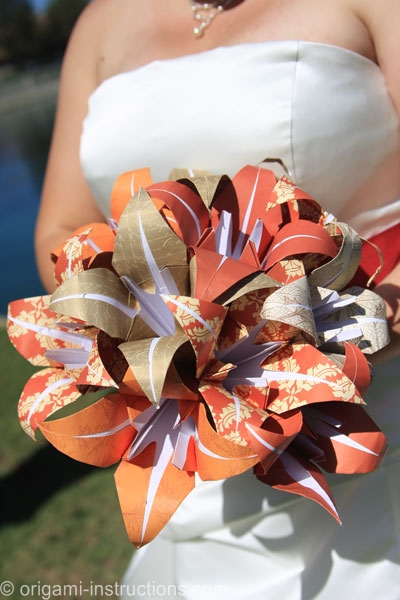 Then we have these origami camellias which will rack up some serious frequent flyer miles to get to the wedding. Here is a friend who is putting in that extra effort, time and miles for her friend's wedding.
From Amber in Ventura "These camellias are traveling with me flat through Europe. We'll fold out their centers in the Czech republic, where they will become a beautiful quilted paper garland for my friends' wedding. Thanks so much! "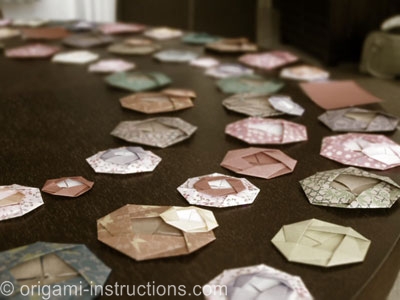 Besides adorning the bride with origami flowers, you can also use origami flowers as wedding decoration as our next reader has shown.
Pam in Berwick send in a photo of a wedding cake decorated with origami kusudama flowers! It looks really lovely, doesn't it?
According to her "Kusudama flowers were used for wedding - bride, bridesmaid, groom, best man, table decorations, cake etc "
Another possible wedding cake decoration is the origami butterfly. They would look lovely too on the wedding cake, don't you think?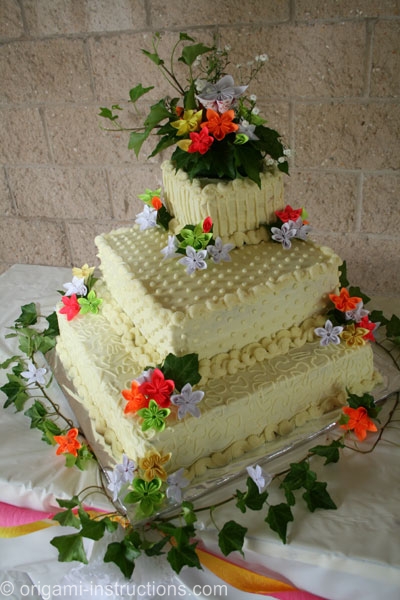 The crane is a symbol of longevity and good fortune because of its fabled lifespan of a thousand years. The crane is also a symbol of happiness, loyalty and fidelity because they are thought to mate for life. So it is a perfect origami for weddings.
Thomas in Newport News send in this photo of 1000 cranes that took 60 hours to make. What a backdrop this would make for a backyard wedding!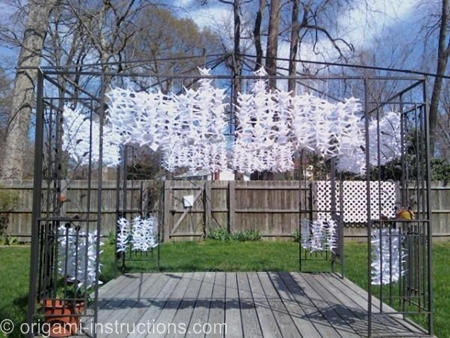 Origami boxes can also be used at a wedding as party favors.
Tess in Anderson must have spend countless hours folding the origami star box for a wedding.
The below photo was from Tess "Origami star box, first 190 of 300 for a wedding."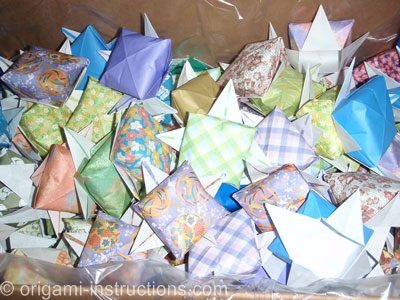 As you can see, she used the origami star box as a party favor for the wedding. It is just the perfect size for the Ferrero Rocher chocolate!
Also from Tess "One of the 300 from wedding, origami star box."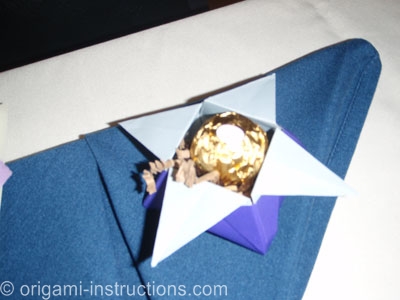 We also heard from Caitlin in Apex who did not submit a photo but commented "I love this website I use it all the time! I am currently using the star box because I am in a wedding, not getting married, and I have to make about 100. I saw somebody said that they make 300 and I was awed! Now, I think I have changed my mind and put those chocolates in there with that fuzzy grass in it. Thank you so much. Also, I think that it's a great idea to show the actual paper and not a diagram. It is so much more effective!"
So, as you can see, with a little time and creativity, origami can be used effectively and beautifully at weddings.
There are so many components to a wedding and since things are often costly, here's a chance to also save some money AND show your creativity and personality at the same time!
Congratulations and thank you to all our readers who've submitted the photos on this page!
We've really enjoyed it and we're sure everyone who's reading this page have enjoyed hearing about your origami wedding as well!
Did you make origami for your wedding? Or did you see origami at a wedding? Please share them with others and submit your photo here!
We would love to place the photo on this page!