Origami Shrimp Photos
Here are origami shrimp photos that have been submitted by our readers. Check them out!
From Cyprus "I didn't have the right paper, so now mine's a grey shrimp."
Cyprus- Love your grey shrimp!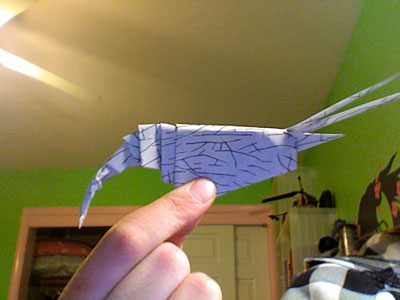 From Brittanie of Mt Horeb :I had a lot of fun making this! Thanks for putting this up!!! I am now going to teach my friends!! :D: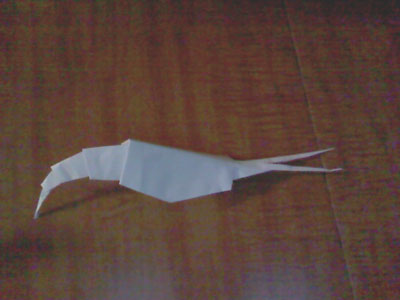 From Natalia of Galway "This is my Shrimp origami. My whole family loved it! :)"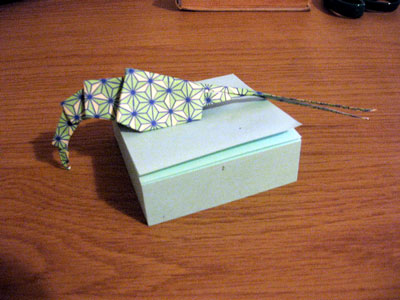 From reader in Greensboro " It is an Oragami Shrimp! The yellow one is about 3ft. i made it with poster board!"
Wow, it's the Godzilla of shrimps!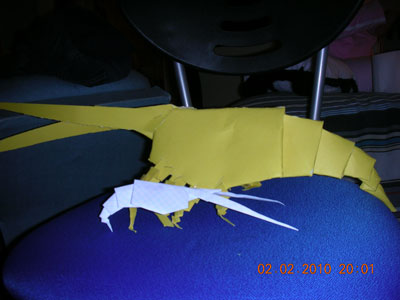 From Teodor in Lasi "This shrimp is awesome!"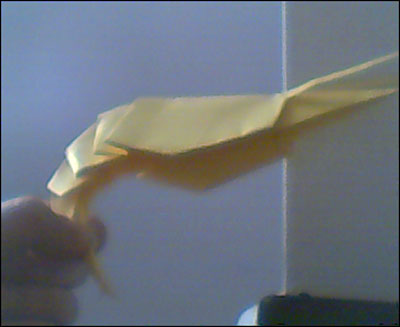 From Lisa in Stord: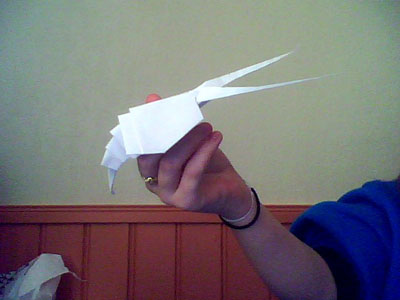 From Amelia of Des Moines "Here is my origami shrimp! My friends and I each made one in different colours. This is the best origami site ever!!!"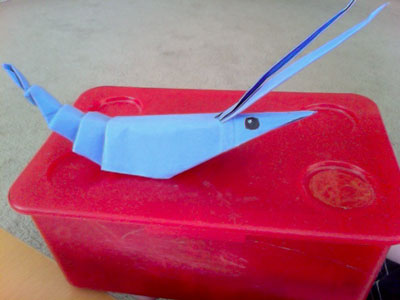 From Coen of Noord Brabant Netherlands"Hi I'm new on this site. I succeeded these shrimps in only 1 try"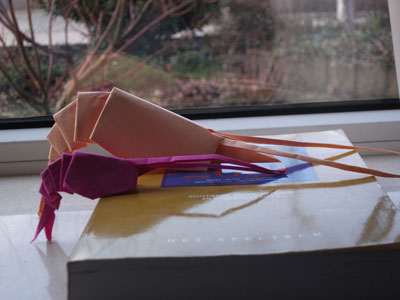 From Annabeth of Charlotte: "The silver shrimp!!! :) notice Im wearing an origami dollar ring, which I also made on this site!!!!! I LOVE THIS SITE!!!!!"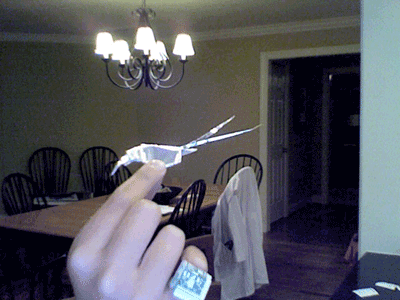 From Lorie in Fort Worth " I made my shrimp origami from a Dunkin Donuts add :) "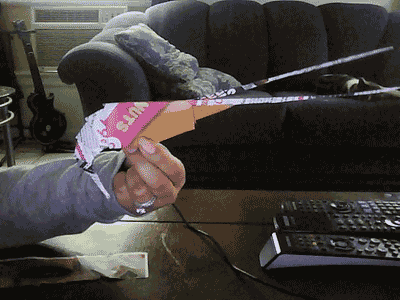 From reader in Columbus " Had SO MUCH fun making my iridescent pink shrimp - Thanks for your easy-to-follow instructions!"
Love the shocking pink shrimp!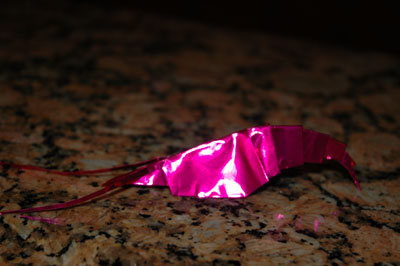 From Jake in Fall Creek " My shrimp is REALLY tiny!!! :) "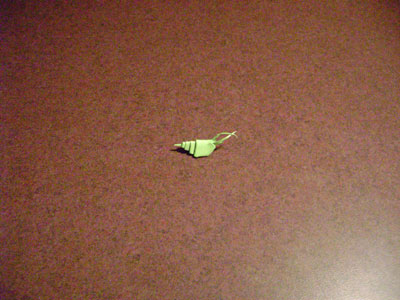 From Brendon in Amesbury: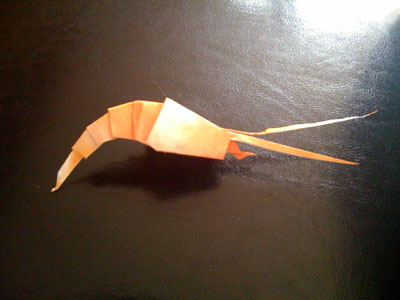 From Jessica in Edson: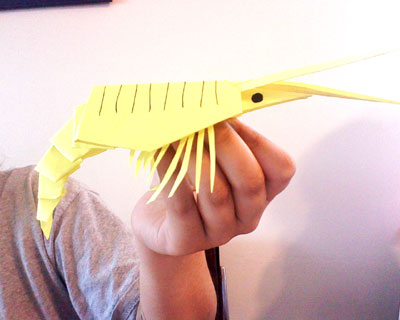 From Mathew in Cebu City: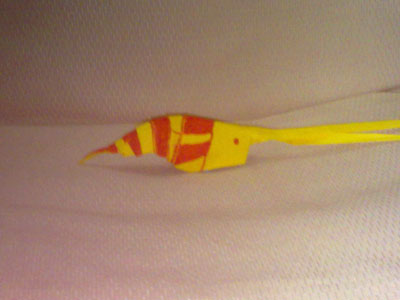 From Moses in Somerton "Origami shrimp - At first I thought it was going to be hard, but it was easy with practice."
From Masha in Russia " Many origami shrimp, ready to eat :) "
Looks delicious, Masha!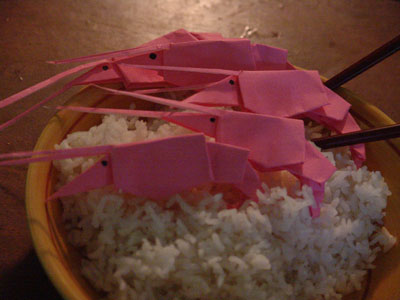 From Julia in Charlotte: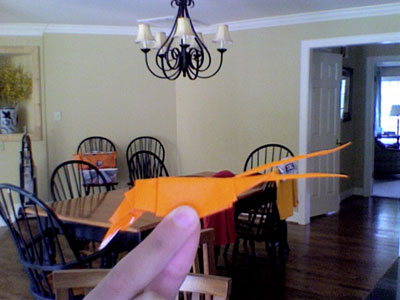 From Elisabeth in Payson " I love this design!!!! Very first origami I ever tried!!!! "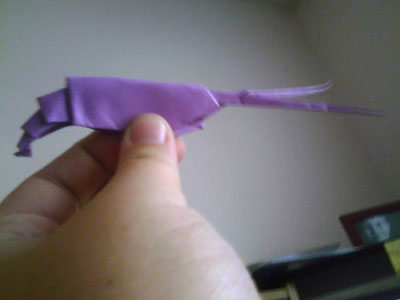 From Cameron in Denver " This is literally a big shrimp. "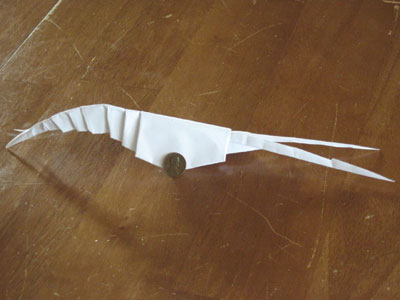 From Allan in Pretoria " My first origami shrimp! "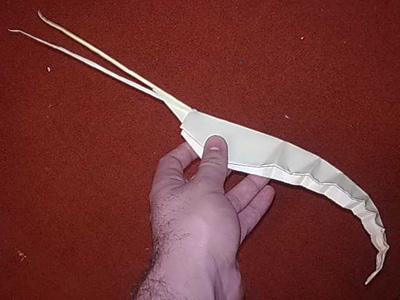 From Pierce in Linn Creek: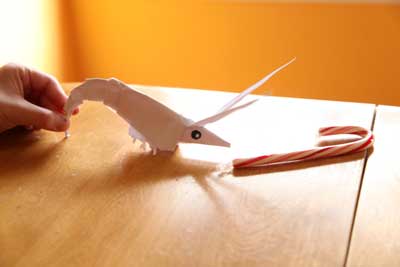 From Nick in Alice Springs " I made this shrimp from coloured paper that I found in one of my books. "
Love your colorful origami shrimp!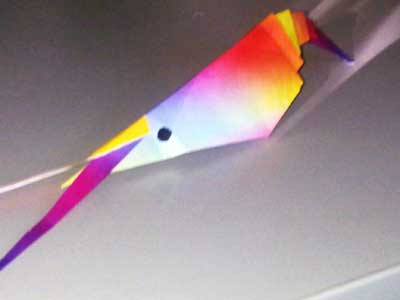 From Anthony in Staines " This was my first attempt at the shrimp - I like it, simple model but effective. "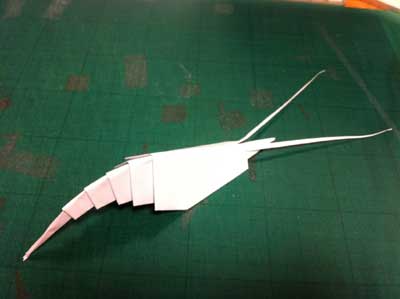 From Lily in Coatesville " This is my teeny tiny shrimp! Can anyone make one smaller? "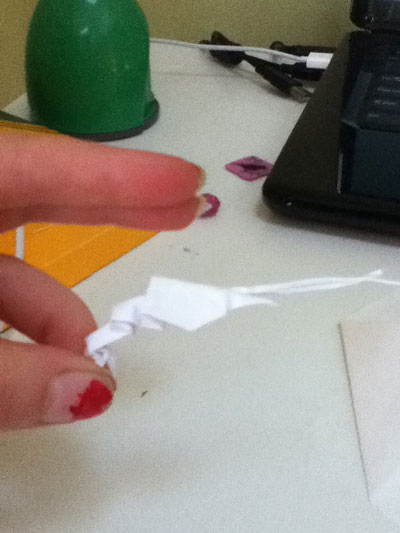 From Gavin in Orlando: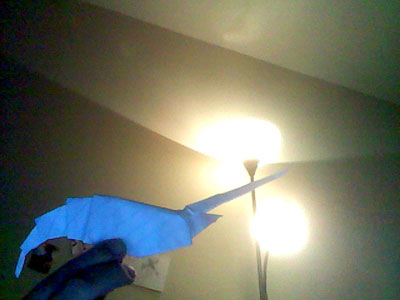 From Kate in Palmyra: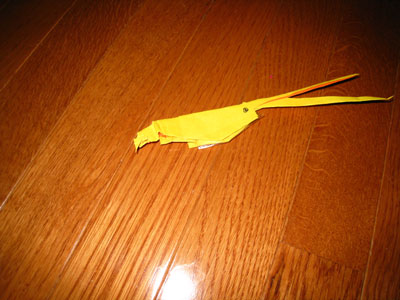 From reader in Los Angeles: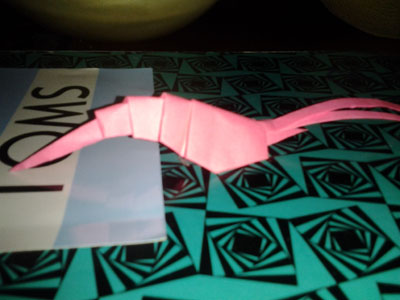 From Margaret in Amador City " I made a mobile out of the objects I folded using instructions from your website. The instructions were very clear and easy to follow. I had a great time learning to fold origami. Thanks for such a fantastic website! The mibile has cranes. fish, shrimp, stars, a frog and a crab! "
Excellent project, Margaret!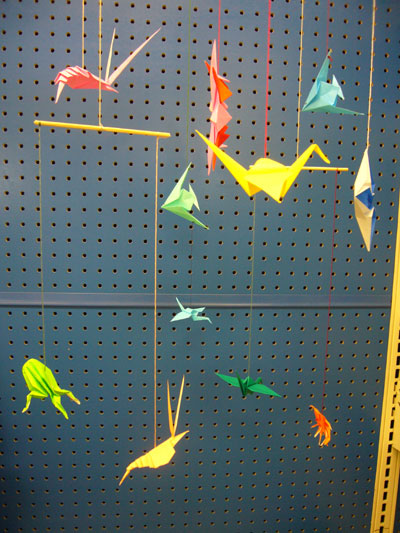 From Gourav in San Jose " Origami Shrimp! It looks quite vibrant! "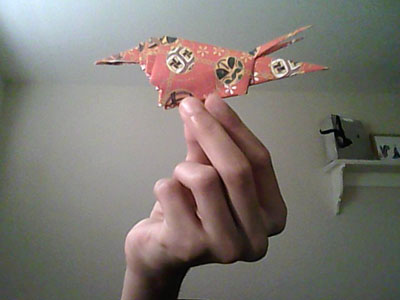 From Lucy in Bristol " This origami shrimp is in reply to the smallest shrmp it is 1.8 cm !! Beat that! "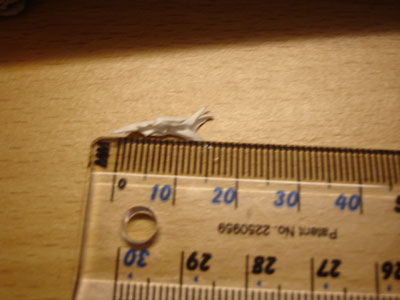 Did you make this origami? If so, upload your photo (2MB limit) via the comment box below. You can login with your Facebook, Twitter, Google or Yahoo accounts.