Origami Lily Readers' Photos Page 1
The origami lily is one of the most popular origami and we've received so many lovely photos from our readers. Thanks to everyone for the photos. Please keep sharing and sending them in! The more recent photos are on Page 2.
Thanks to reader, Jen, for submitting her origami lily. She also submitted several other photos: origami vase, snail, tulip, frog.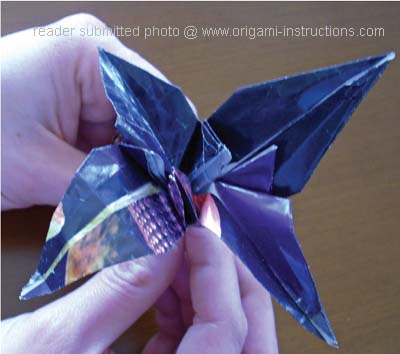 Thanks to reader Christoper from Richardson, TX for his origami lily - " Lily with makeshift stem. Stem folded all the way down into long thin strips, then unfolded and refolded into a rectangular tube, then take the end piece and roll it back at the top to create a leaf. I strayed from the origami norm by making a few slits down the top of my stem so that my lily would fit snugly."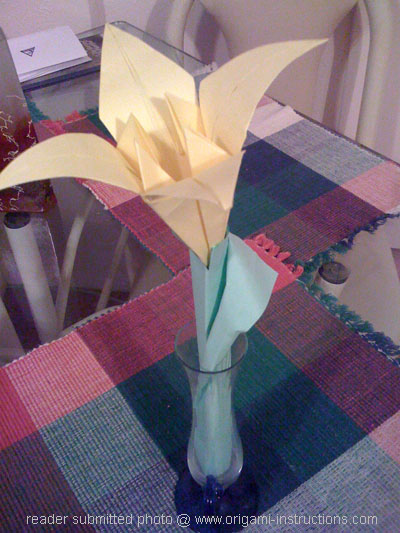 From Jeff in West Hartfod "My niece brought me some origami paper from Japan for Christmas. Your site is the best one I've found for instructions, and I'm making my way through it!"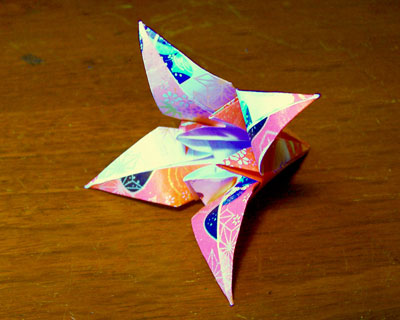 From Allie "I had to cut a small hole in the bottom of the Lily so that it would fit over the top of the stems (I had to make two stems since the lily was too heavy and kept tipping over!)."
Allie - Love your lily with stem!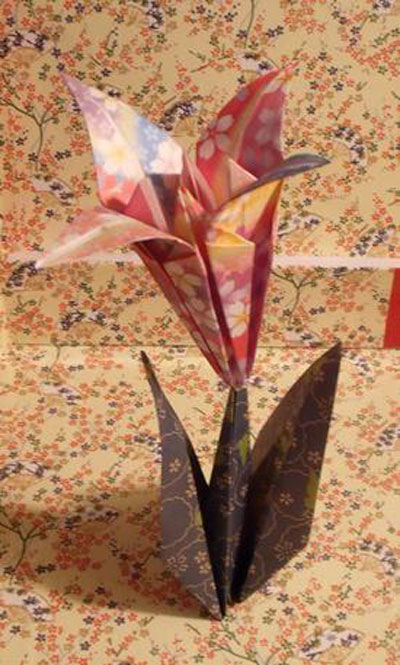 From reader in New York " We made these origami lilies in our middle school tech class for a project. Our final project is going to be a huge origami made of plywood."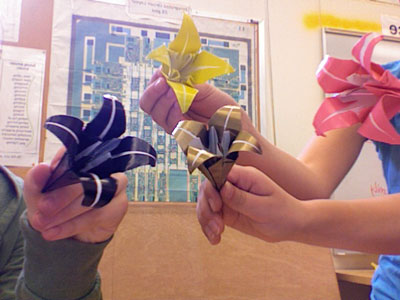 From Nichole of San Antonio: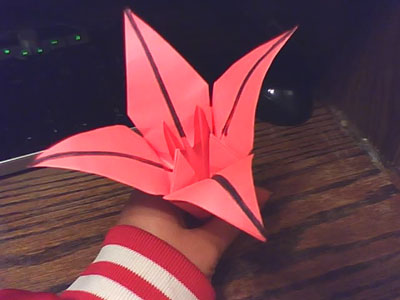 From reader in Caxias "Gift box decorated with origami lilly."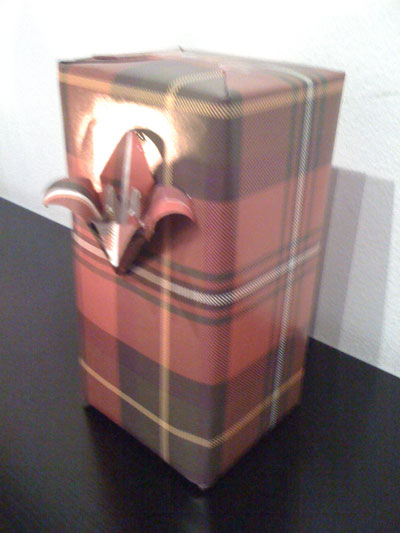 From Teodor in Iasi: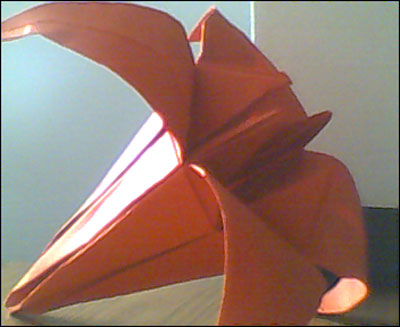 From Martin in Essex "My first ever lilly, kinda used scrap piece of paper about 3-4inch square so it got all mess-up, plus im supposed to be at work fixing trains so consider it to be an honour that I'm riskin my job for the sake of origami...hahaha"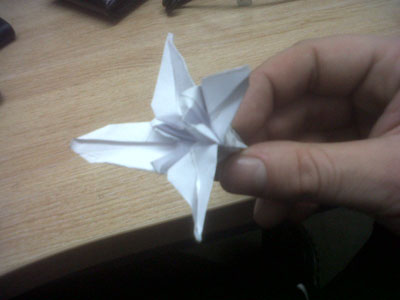 From Eduardo in Mexico: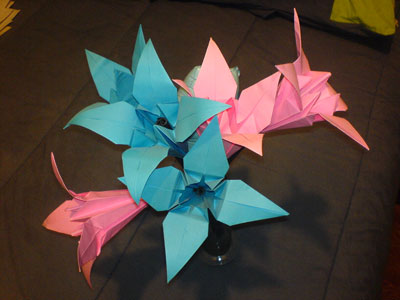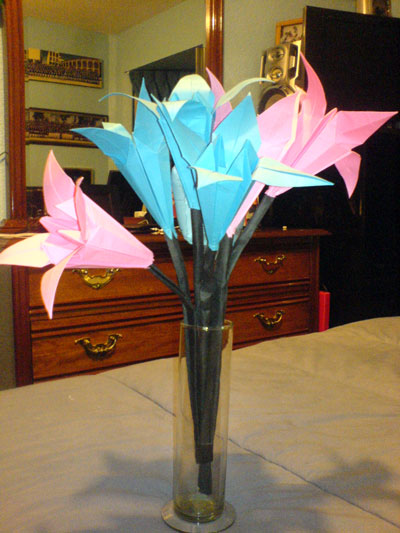 From Sarah in Melbourne: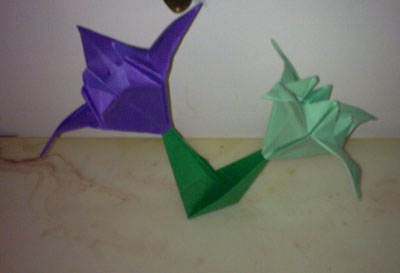 From Vanessa in Stockton "both of these are for special events. This one was for my cousin's birthday and was a centerpiece. The other one was for my sister's bridal shower."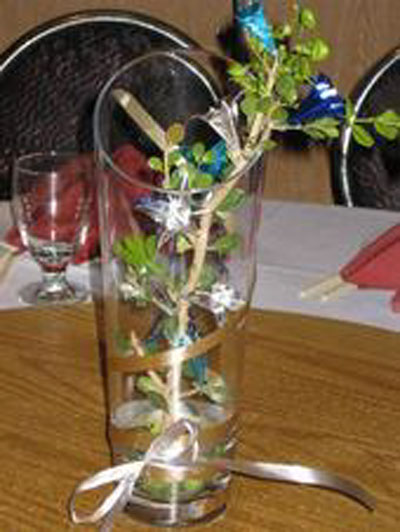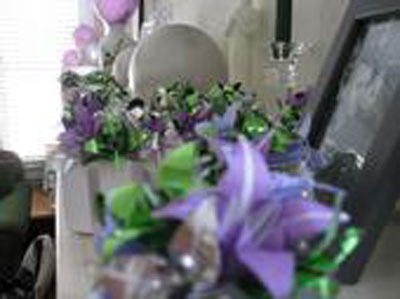 From reader in Timisoara "Origami Lily, made of an non-sticky post-it."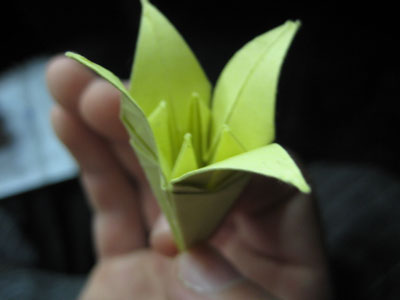 From reader in Binghamton: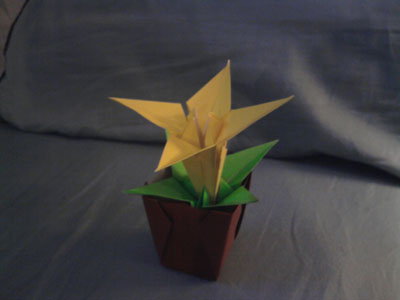 From Kim in Tustin " I made origami lilly bouquets and boutonnieres for my wedding, and they turned out very well!"
Congratulations on your wedding, Kim! What a beautiful bouquet of origami lily!!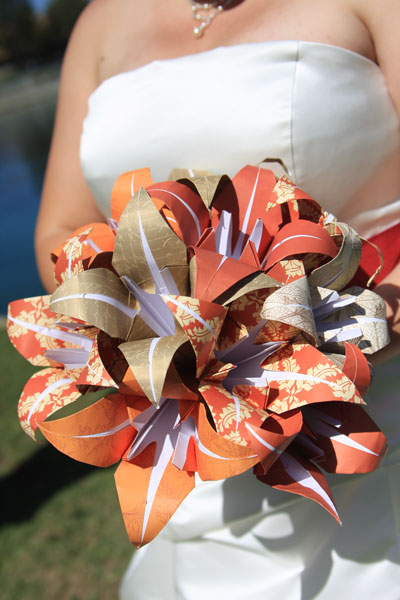 From Andrew in Glasgow: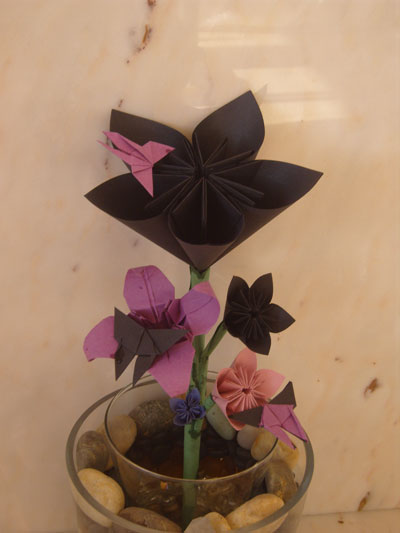 From AnneMarie in Powder Springs: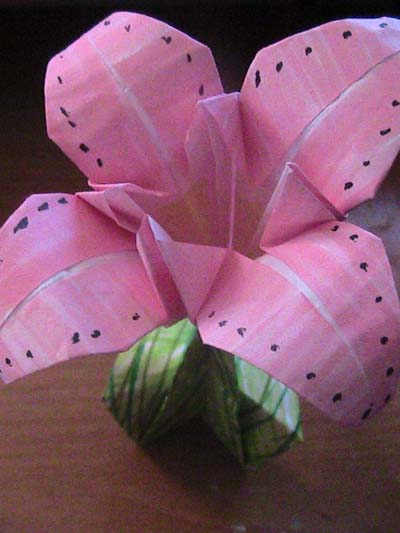 From Beth in Washington "I made these origami lilies for my Mum for Mother's Day and she really loved them! :D"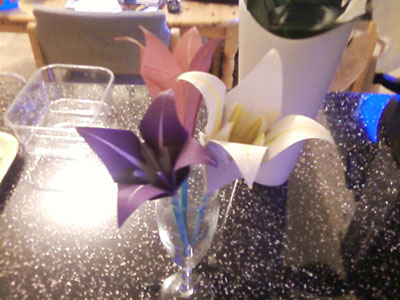 From reader in Park City " My first lily! Made from notebook paper cut into a square :)"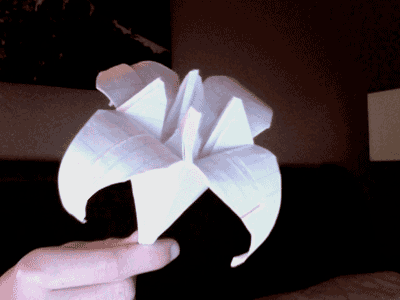 From Igor: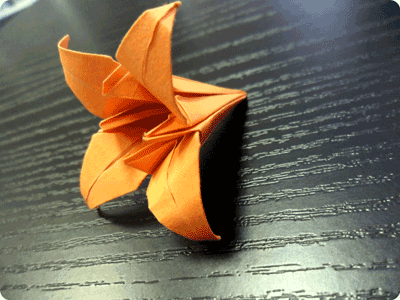 From Amelia in Dallas "The Lily was my favorite origami flower."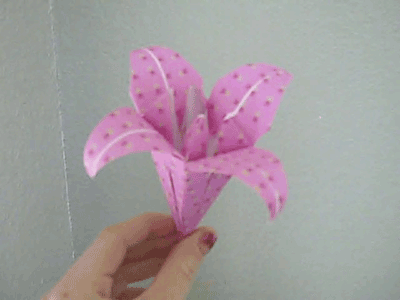 From Taylor in Northridge: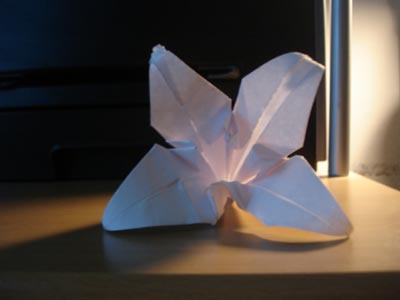 From Shanna in Brisbane " It's fun after making them on white paper because it gave me a chance to decorate it. I also made a miniature version and put it inside the larger one. "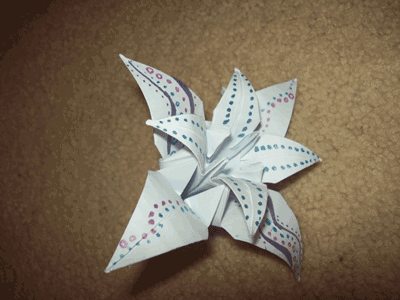 From reader in Belgrade: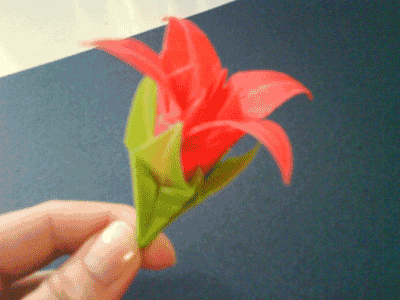 From E in Bath " I found this site to be very informative, and am planning to make a boquet for mum's birthday next week. I'm almost positive that she'll like the flowers this site help make =) "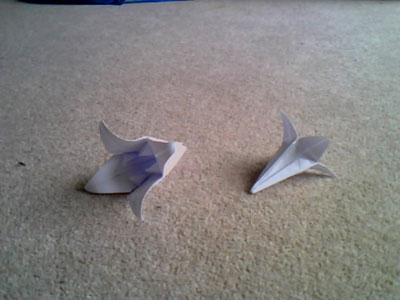 From Mimi in Waterloo " A small bouquet of origami lily i made for mother's day... kneaded eraser does a really good job of sticking the flower to the wire."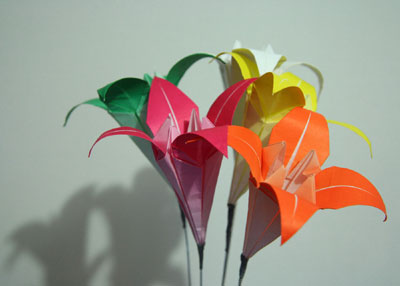 From Nora in Danville: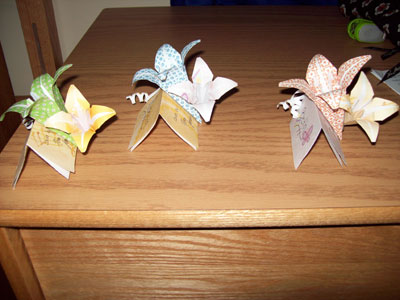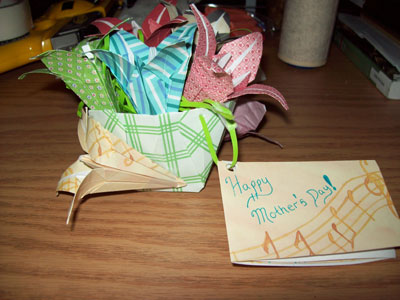 From Kotomi in Hanoi: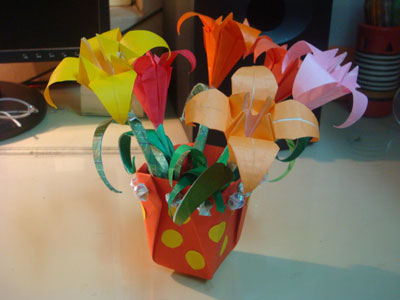 From reader in Kuala Lumpur " Origami Lily made of an envelope."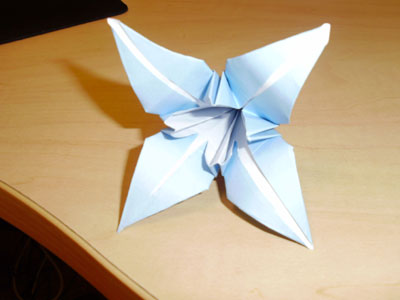 From Sean in Aurora "I must admit i cheated and used stick glue because i was using construction paper."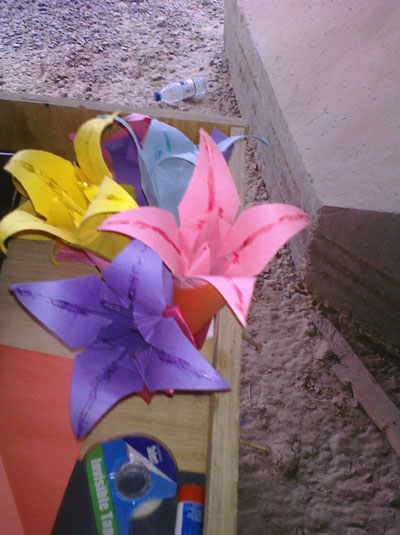 From Angela in Midland: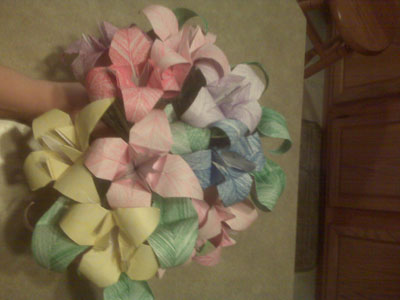 From Christeina in New York: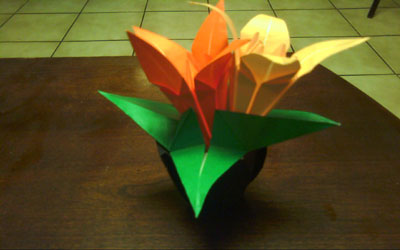 From Kait in Yorktown " I house-sat for a family friend this summer and decided to make them a few pieces of origami as a welcome home display on their entrance table: 3 vases on a lotus each, with 3 lilies and a crane each. Thanks so much for your fantastic instructions! It was just what I've been looking for--the best, clearest, easiest to understand instructions I've found! Keep up the good work! "
Thanks for the complement, Kait!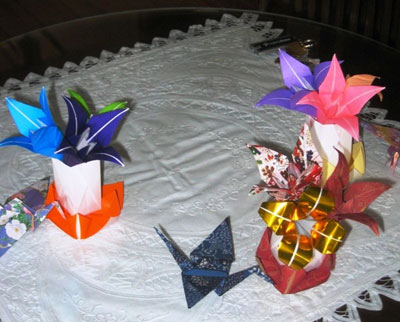 From Erika in Ottawa " Origami flowers and stars in a jar. "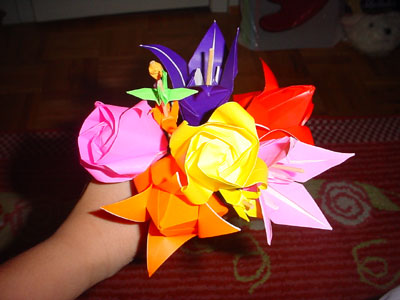 From Adi in Denpasar: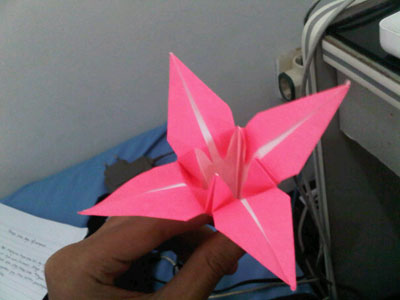 From Zack in Lincoln: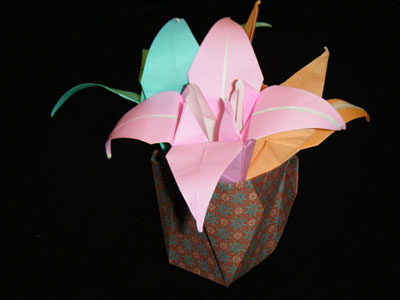 From Sahana in Mumbai " These are my Origami Lilies.This is the first origami I tried from this site! "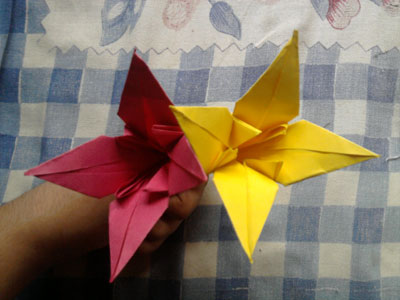 From Gabby in Craiova "My first origami lily."
Gabby, it looks like an origami stargazer lily! :)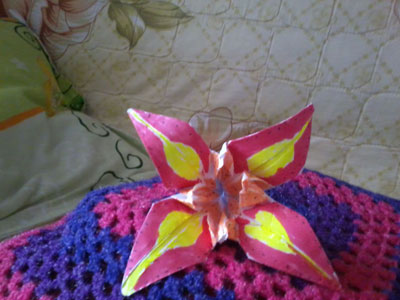 From reader in Portola " I made a lot of these lilys and i made the stem myself i think they are really cool:P. "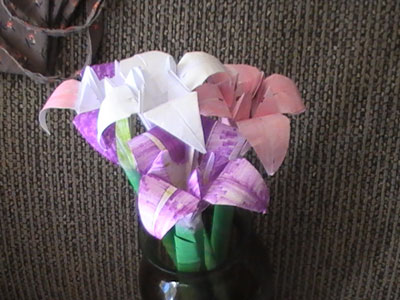 From reader in Niagara Falls: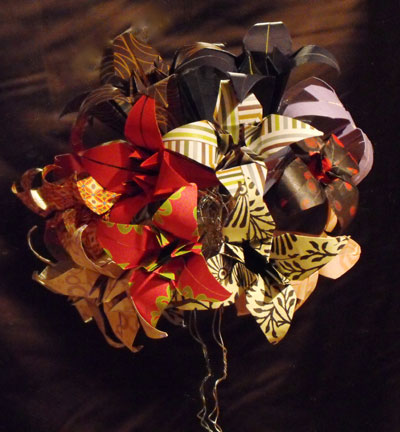 From Megan in Arcadia " origami lily lei and the mini bouquet "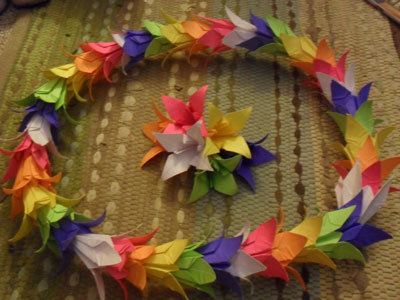 From reader in Niagara Falls " An origami garden (includes tulips, a pereson, bunnies, cranes, a dragonfly, cubes, lillies, and some other stuff made of paper that isn't origami that i made up) "
Wow, you've an amazing collection there!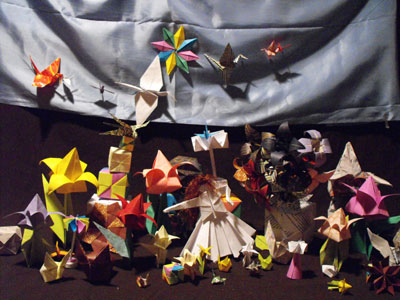 From Aparna in Neyveli: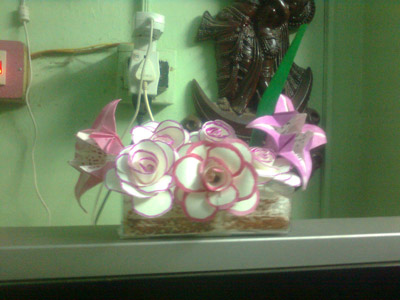 From Palupi in Semarang: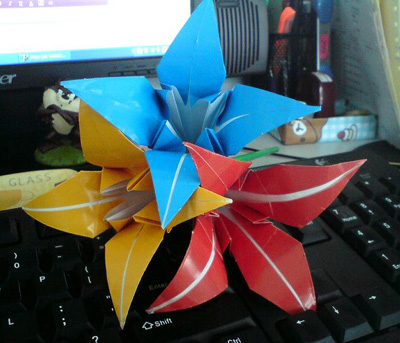 From Connie in Adelaide " This is a bouquet of origami lilies I made for a house visit. "
It's beautiful, Connie! Well done!!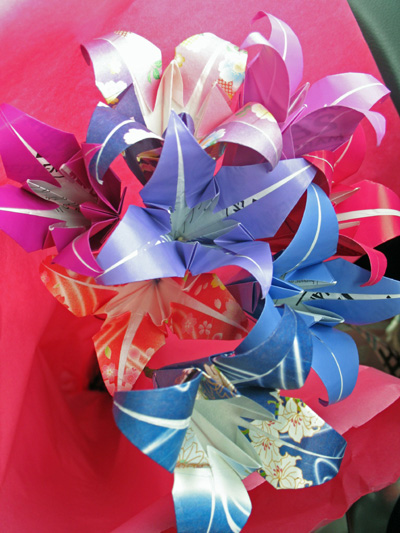 From Upadhi in Delhi " my first origami lily! "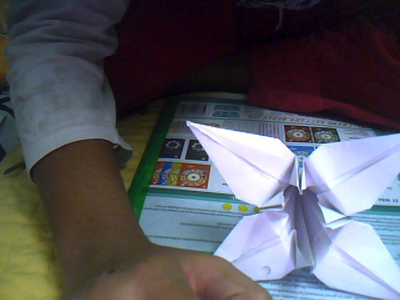 From Juan in Mexico " A cute gift, a lily with a lot of printed messages, to get that I had to draw all lines patterns to know where does messages has to be "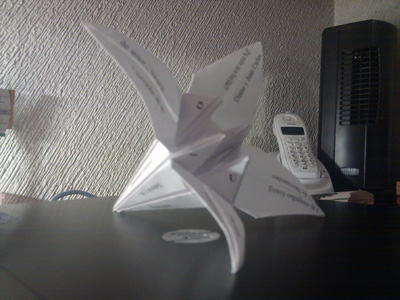 From Edgar in Queluz Portugal " Lily made with an yellow Post-it ":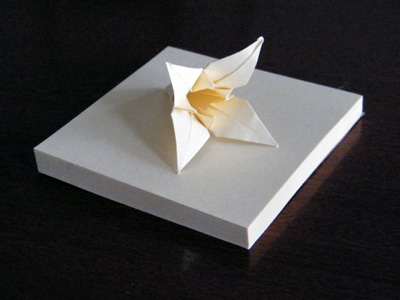 From Lamya in Magalore " did it for my school project and everybody loved it!!!!! thanks so much!!!! "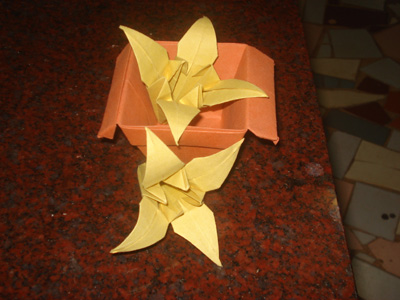 From Walek in Rawang " my first trial turns out great~! this web is soooo cool...=p "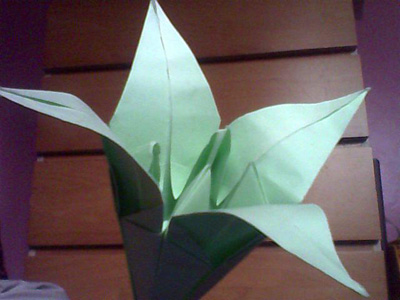 From Jackie in Philippines: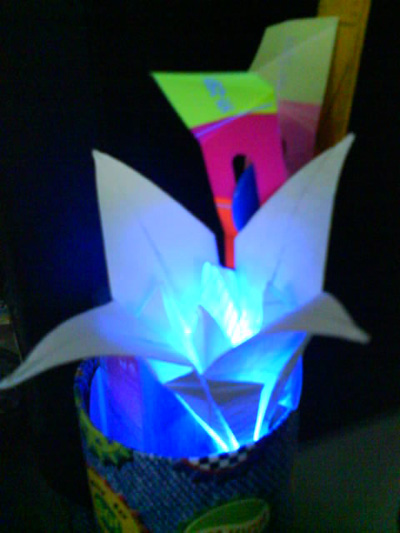 From Pepi in Bulgaria " Awesome, now i can't stop making them. thank you so much for the tutorial. your site is epic. i learned to do so much origami :) "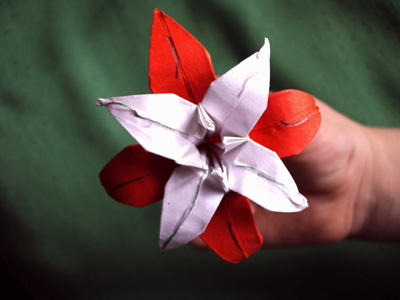 From reader in India: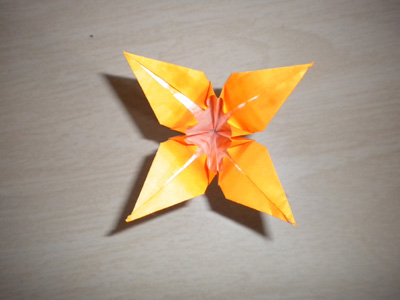 From Sandra in Cebu City, Philippines: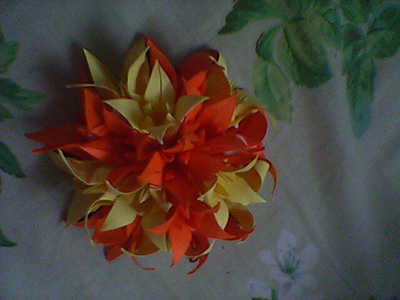 From Emilliani in Sarawak, Malaysia comes these nice lilies: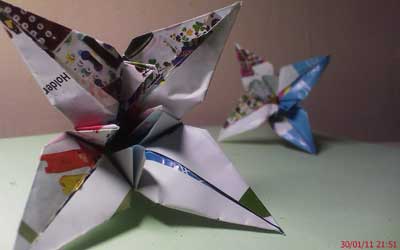 From Kami in Leipzig "Birthday present for my mom.Thanks for the instructions "
Looks like a beautiful present, Kami, thanks for sharing!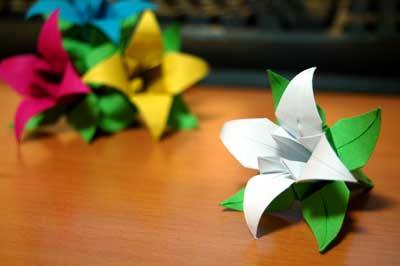 From Kristela in Balanga City " Here are a couple of Origami Lilies I made while following instructions from your site. My mom teaches art to Grade School students and I recommended this to her, they turned out beautiful and somehow along the way, we kind of figured out how to create a second layer of petals. This origami proved to be a hit and a lot of her students are clamoring for more Origami Flowers. "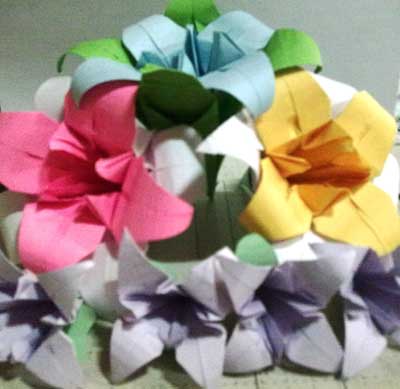 From reader in Phoenix: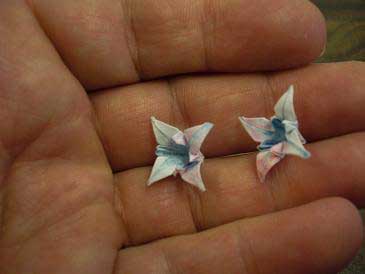 Did you make this origami? If so, upload your photo (2MB limit) via the comment box below. You can login with your Facebook, Twitter, Google or Yahoo accounts.