Origami Box with Divider Photos
Here are origami box with divider photos that have been submitted by our readers. Check them out!
From Brenna in Junction City: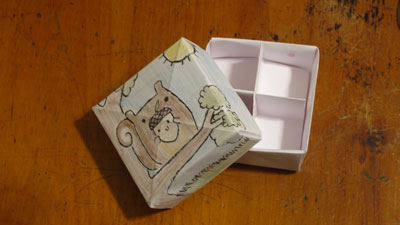 From Ivy of Tilburg "Fairly easy to fold.
I also made the divider and decorated it with quilled roses."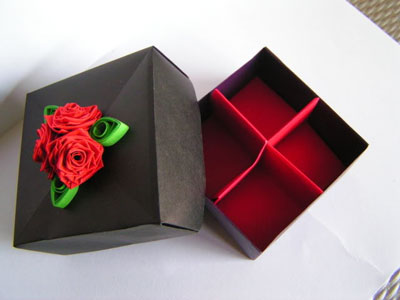 From Karolina in Poland " I love doing origami. This is my first box with divider and cover that i have made! "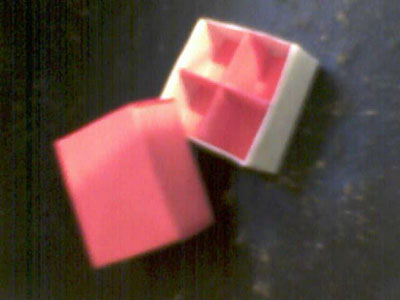 From Imre in Noord-Brabant the Netherlands "It's fun to make these things. I made this one for my niece's birthday. She is 23 but she liked it anyway."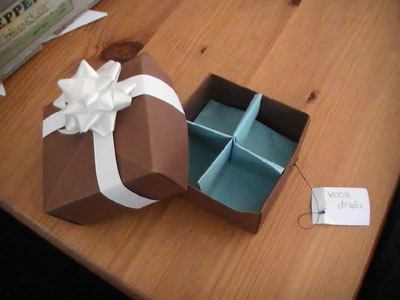 From Reiley in Apache Junction " I have gotten into origami lately and decided to make this a candy box. with bubble yum, trident, altoids, and live savers. I Really enjoyed it!!!! "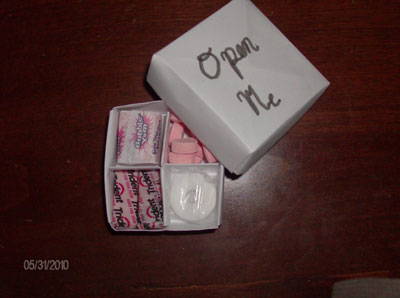 From Crysta in Minneapolis: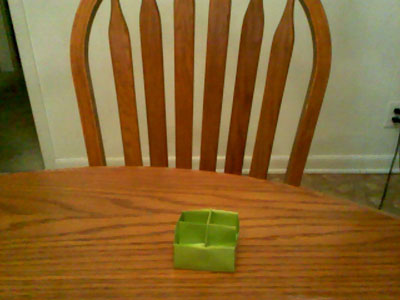 From Agnes in Thessaloniki:
Wow, that is a tiny box, Agnes!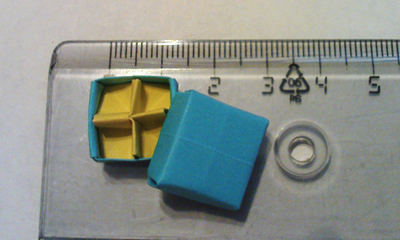 From Pauline in Taipei " Took me a while to make and paint the box... I love zebra prints and hearts, so i painted the box zebra print with a hot pink heart on the cover. The inside is a magenta-ish pink divider... <3 :) "
Nicely decorated, Pauline!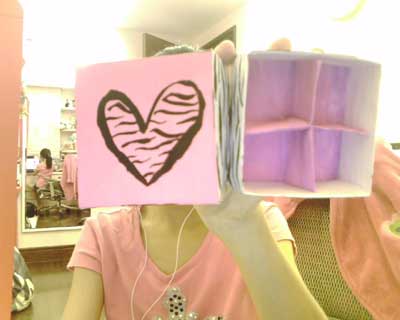 From Madhu in Chenna " Origami box with divider :) "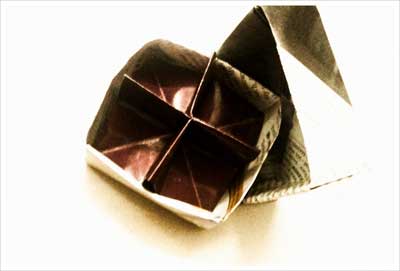 From Mariel in PA " This is my amazing Azumanga Daioh-themed origami box! I hand-painted it and everything! "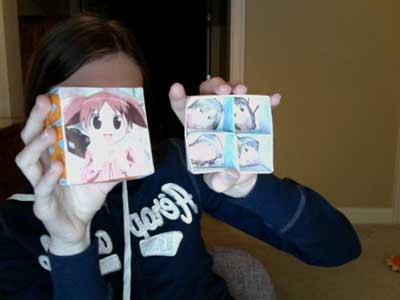 From reader in Norman "Tiny origami box."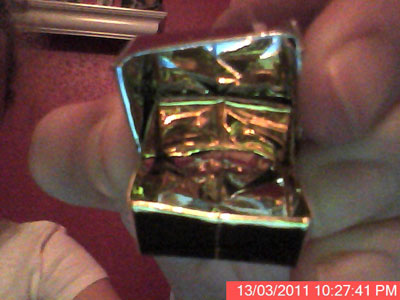 From reader in Philadelphia " Origami Box with Divider. The box is a couple of newspaper thick. They are filled with soil and seedlings. Decided to make a lot of these boxes instead of purchasing the plastic seed starting planters/trays. Also, when the seeds finally sprouts, I can just place the biodegradable boxes right into the garden. I guess you can call this "organic" gardening or "poor-man's" gardening. "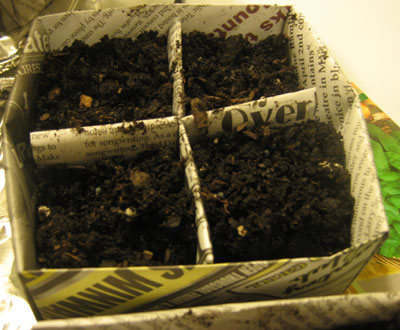 From Joy in Toronto " Hi, my name is Joy and i first made a origami BOX. Then after i made a origami BOX DIVIDER. I hope you guys like what i made and Bye! By the way i am from Canada!~ :) "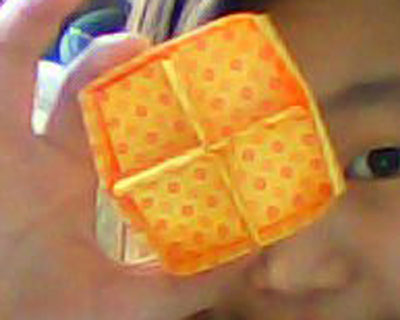 From Sharon in Eugene " The divided origami box was really fun to make. Now I just have to figure out what to put in the little sections. Thanks for these great instructions. "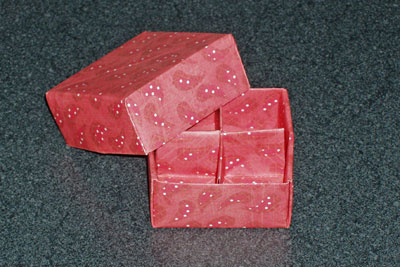 From Barry in Stafford Springs " Origami box with lid and divider."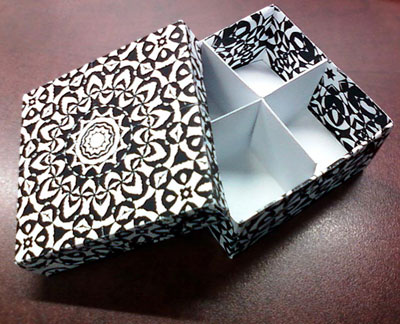 From Alyssa in Spartanburg " Origami box with origami divider. "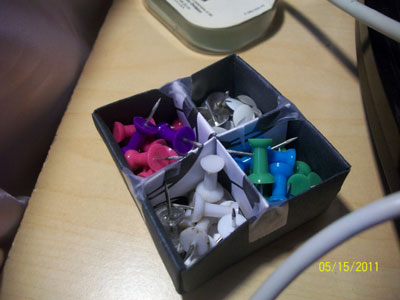 From Carlos in Matosinhos Portugal " Started doing origamis about 2 days ago. Today, I made some boxes with dividers and covers, and when I got home, I've found a bit of paper, of about 2,5cmx2,5cm, and decided to try to make a box with it. Let's just say that I've spent the night building a complete set, just 9mm wide, using plain white paper. =) "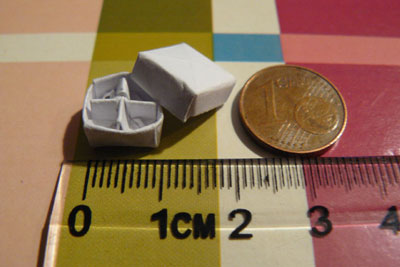 From Sarah in Sydney " Origami box with divider. I wanted to see how small i could make one, i managed to get one that was 0.5cm long! I might've been able to get one smaller if i hadn't just clipped my nails the other day. "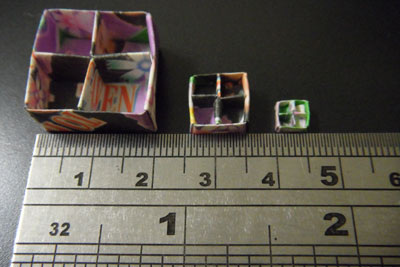 From Handy in Pekanbaru " Origami box with separator include lily flower it's easy to made it... "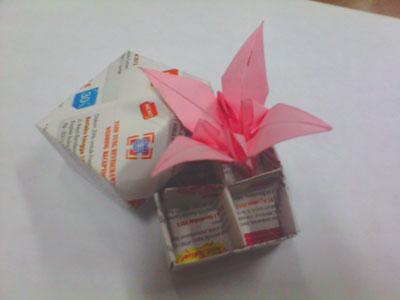 From Priscias in Singapore "Origami Box with Divider."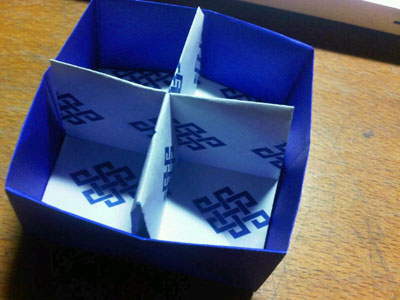 From Zhamaish in Tuaran " origami box with divider,....Chadaaaa..hixhixhix "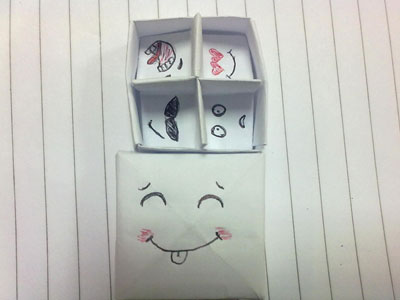 From Keanne in Makati City " this is a plane colored box, it's my favorite box but it's too small to put things inside. thumbs up "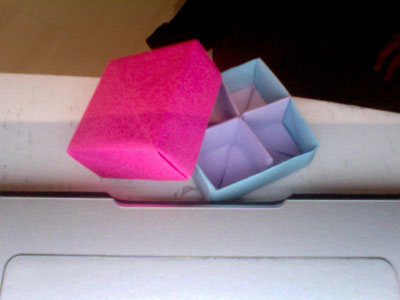 From Grace in Renton "box with divider that i cutomized. it mostly tells my personality."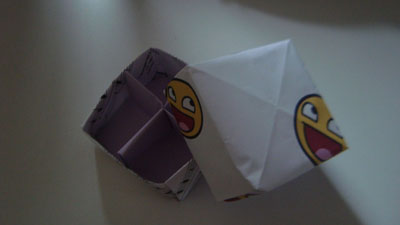 Did you make this origami? If so, upload your photo (2MB limit) via the comment box below. You can login with your Facebook, Twitter, Google or Yahoo accounts.