Modular Origami Pinwheel Photos
The photos we've received was overflowing the main page so we decided to move the photos to a dedicated photo page! Thanks for submitting and sharing photos of your origami!
Thanks to reader, Andreas, for his modular origami pinwheel: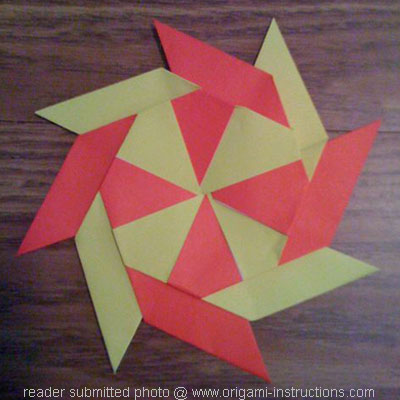 From reader in Ireland: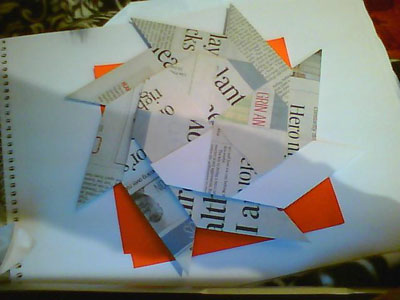 From Will of Hertfordshire: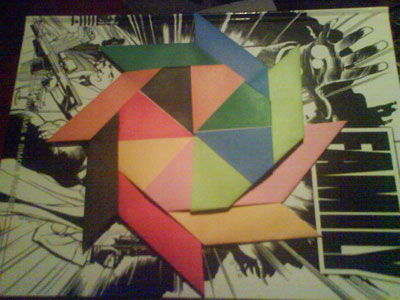 From Surabhi of Delhi: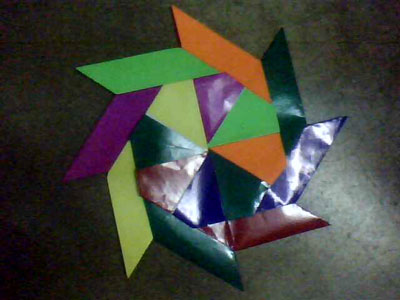 From reader in Toronto: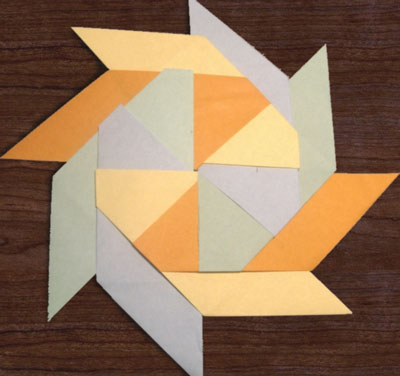 From reader in Chicago "I felt so proud of myself after making this!"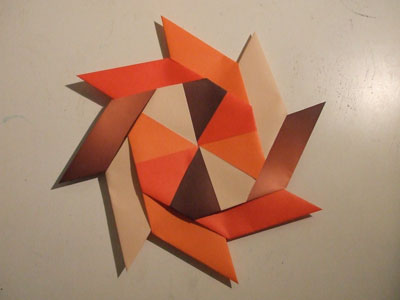 From Teodor in Iasi "This is a good modular pinwheel,but i was stuck at assembly :D.When i finished it i was so happy!"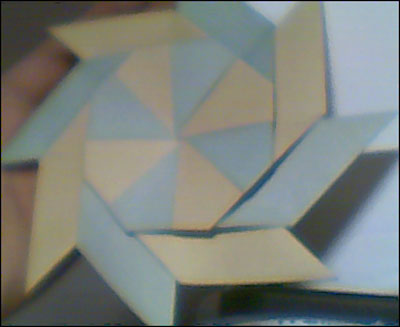 From Sheila of Malaysia "I am really happy becouse i can make this.. "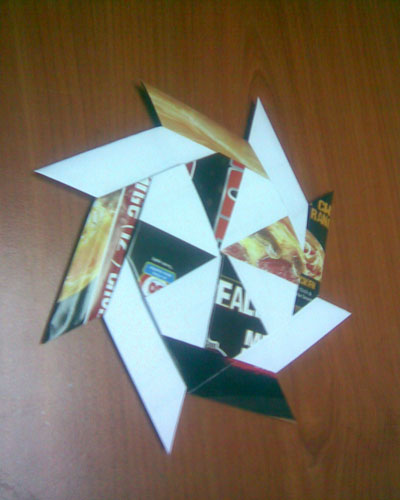 From Eugen of Bragadiru "I had a little problem with the 8th part but Imade it , ty for tutorials :D:D."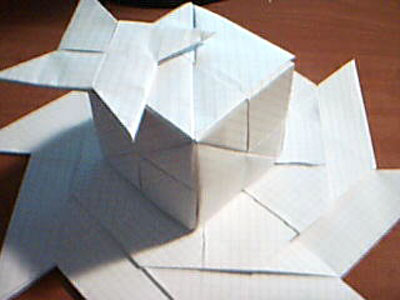 From Brandon in Snellville: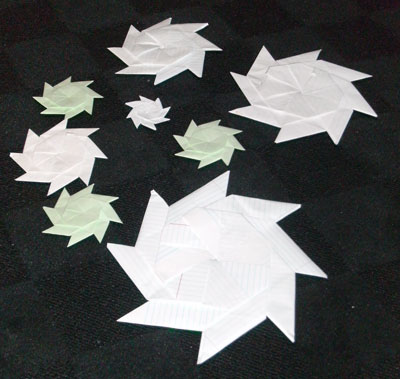 From reader in Watertown: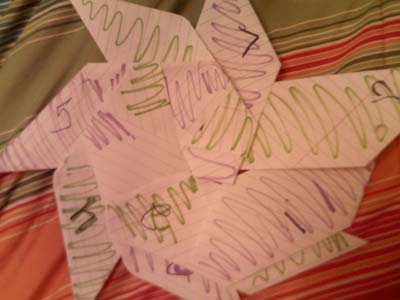 From Imre of Noord Brabamt Netherlands " i thought it would be fun to add some color because my first was totally white."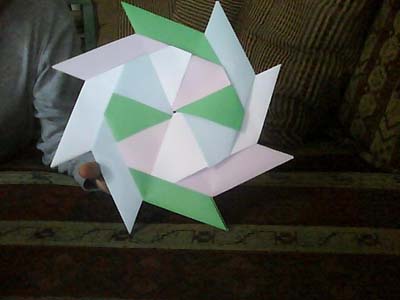 From Kaitlyn in Moore "This was my 2nd time and i thought it turned out great"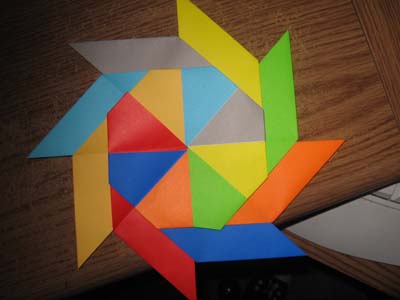 From Miranda in Vermilion "I am submitting a photo of a Modular Pinwheel!"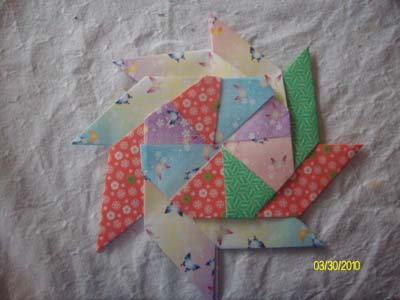 From Rennae in Jamaica: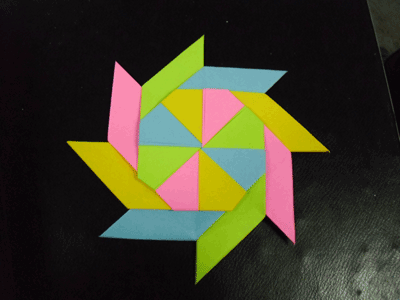 From Anah in Surrey " origami pin wheels.I love your tutorials! Thank you!"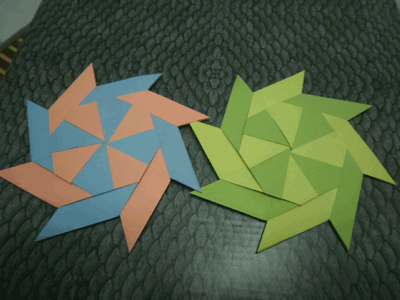 From Imre in the Netherlands "this is my biggest origami ever! it's really big as you can see on the foto my hand and a cd is also in the foto, this can give you an idea of how big it actually is. "
That sure is one large origami pinwheel!!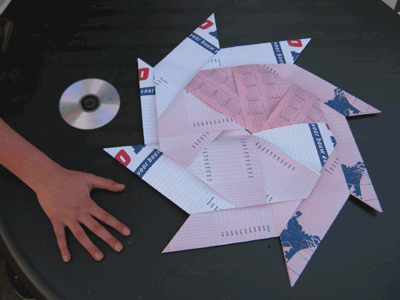 From Hunter in McMinnville: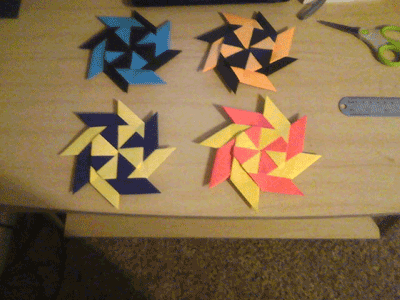 From Kiersten in Cottonwood Heights "Took me a few times to assemble it, but I finaly got it!!"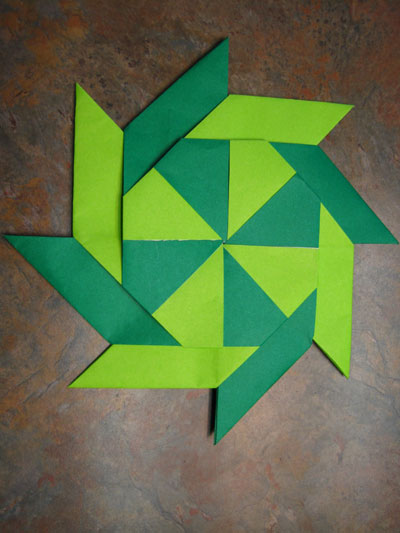 From Dean in Madison " Origami Pinwheel. First I thought they were cool ninja stars that transform, or until I saw this. Also, They all are diffrent colors. =) "
Dean, it must have taken you quite a while to make all those!!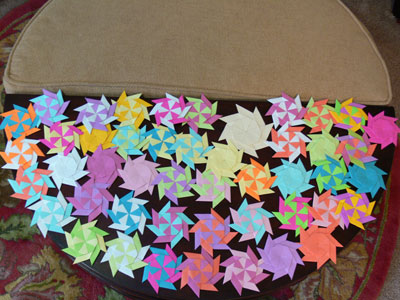 From Quinn in Dubuque: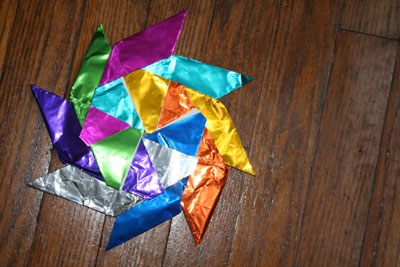 From Zack in Lincoln NE: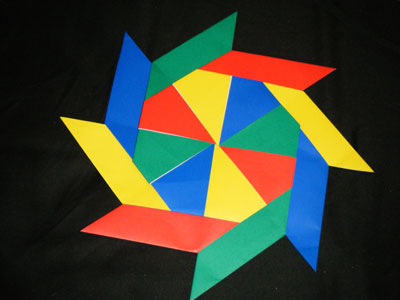 From Bhavya in Cary " I had to do an origami project for school, and this was perfect! The 8th step was a bit hard, but definitely worth it in the end. My first try: "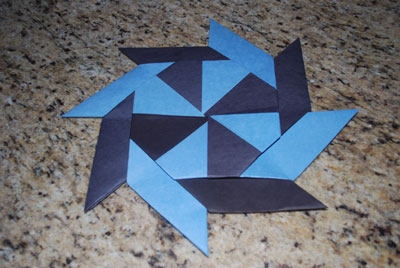 From Poonam in Delhi: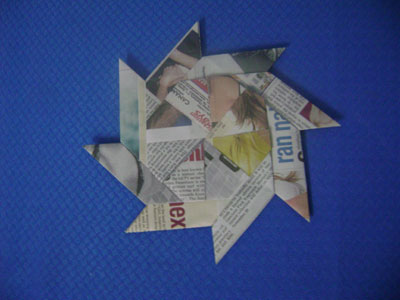 From Emma in Huntsville" I made a huge one. Thanks for the instructions."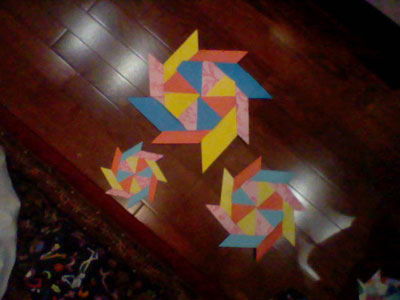 From reader in Florida: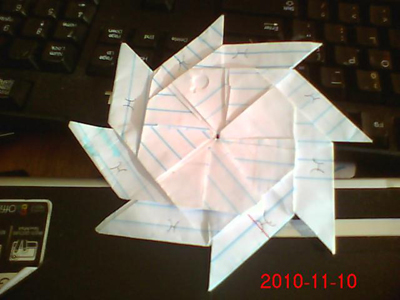 From reader in Fresno " Like this pinwheel? Made with Japanese print paper. Great website! "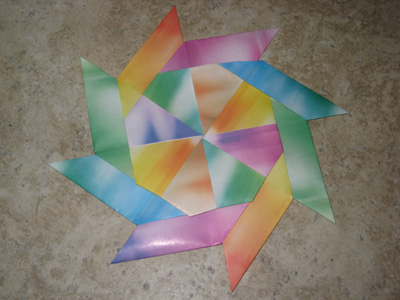 From Alondra in New York City " My origami crane, box, ninja star, 8 point star and water ballon. This website is so easy and fun! "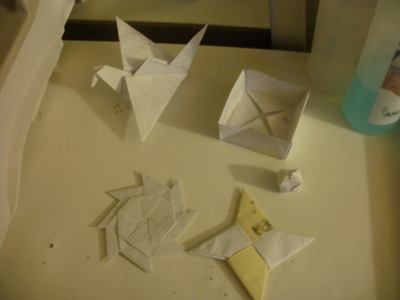 From reader in USA " This is the first time I've tried this origami design. I'm a big fan of this website. It's a lot easier than having a diagram. "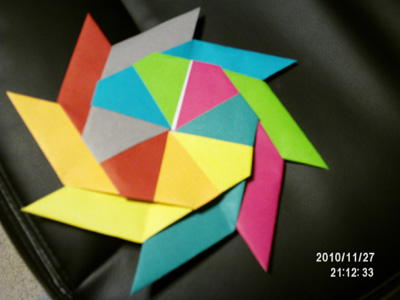 From Rob in Suffolk " Origami Pinwheel. This was my first attempt at making one. Thanks for the excellent diagrams! "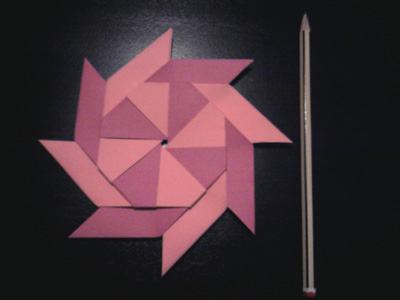 From AjmalAmzar in Penang Malaysia " Very Nice,I made this one using plain A4 paper divided into 8 equal parts... >3 "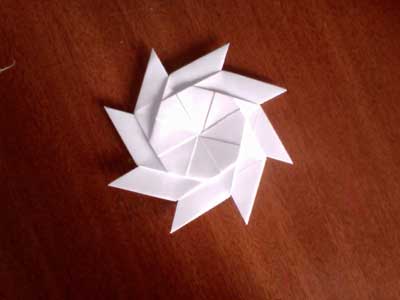 From Hunter in Memphis " We used construction paper. It was difficult to fold together, but overall it looks awesome! "
That is one large modular origami pinwheel!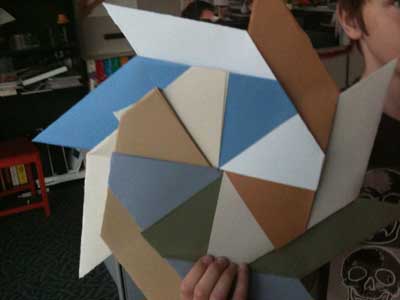 From reader in Mexico City " Had so much fun making this! "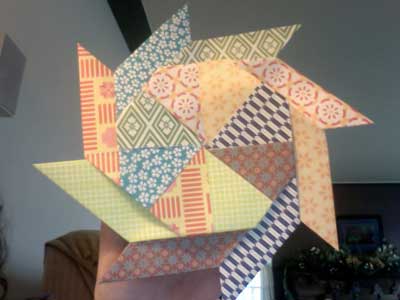 From Morgan in Bay City " I am submitting a modular pinwheel that I made all by myself ."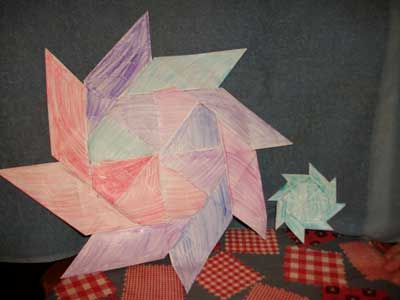 From Emily in Post Falls "

These are my origomi pinwheel, photo frame, flapping bird, star box, dragon, dinosaur, and owl! Im going to send these to my brother in the army. my favorite is the origami pinwheel! Thank you for the easy instructions!!! "
You're welcome, Emily!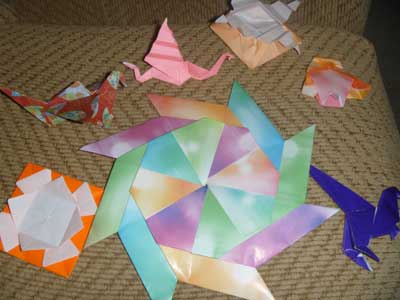 From Jack in Port Lavaca " Giant origami pinwheel. It's almost a yard tip to tip! "
Thanks for the giant origami pinwheel, Jack!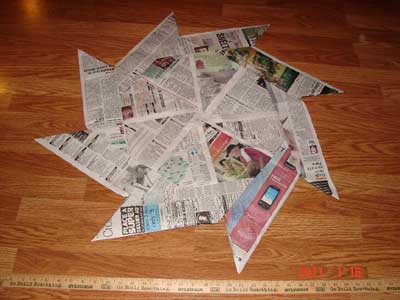 From reader in Bridgend: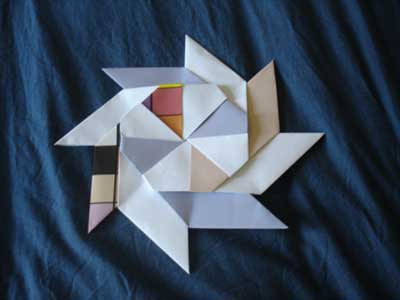 From Koby in Concord: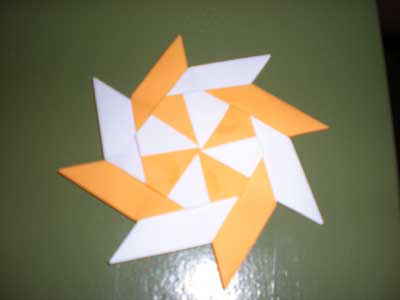 From Jesel in Galloway " When I finished making the origami pinwheel it was cool! "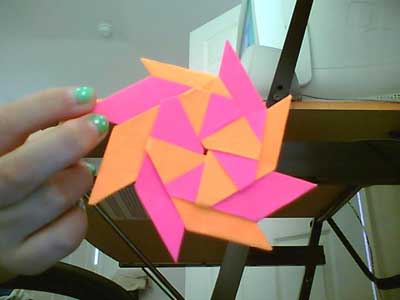 From Chris in Little Canada "Origami pinwheel. I made it transform! into a circle before."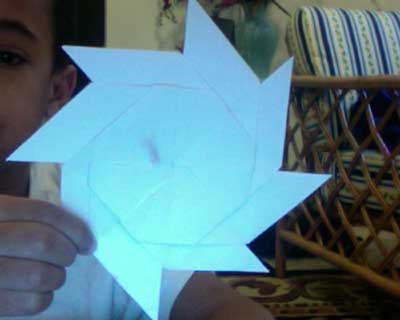 From Theo in London " that modular pinweel wasn't so hard to make after all !!!! ":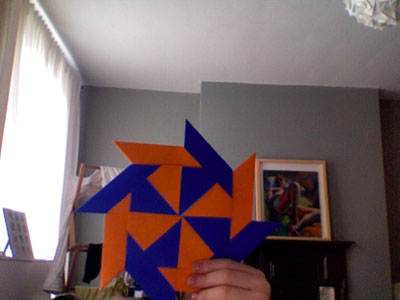 From Grace in Renton " This is my origami modular pinwheel. It was easy because your instructions were very clear and easy to understand. Thanks so much!!! "
Thanks, Grace!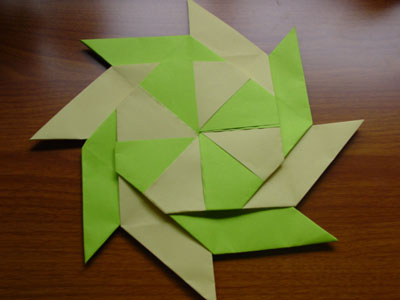 From Gabrielle in New Pal " I LOVE YOUR WEBSITE AND I CAN'T BELIEVE I MADE THIS ALL ON MY OWN!!! I MOST DEFENATELY WANT TO THANNNK YOU FOR ALL THE GOOD INSTRUCTIONS!!! I AM TOTALLY COMMING BACK TO THIS WEBSITE!!!!!!! IT'S THE BEST WEBSITE IN HISTORY!!!! THANKS A LOT!!! "

You are welcome, Gabrielle!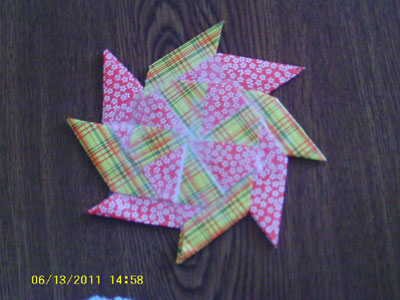 From Carol in Fontana " Modular Origami Pinwheel: I was so excited when I finished this!! I have always been fascinated by Origami, but this was my first time actually completing something! Thank you for this site! "
Congrats on your first origami, Carol!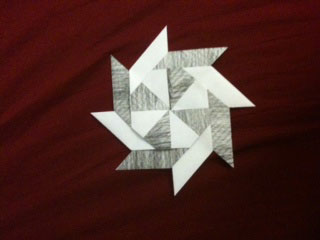 From Jozsef in Lake Balboa: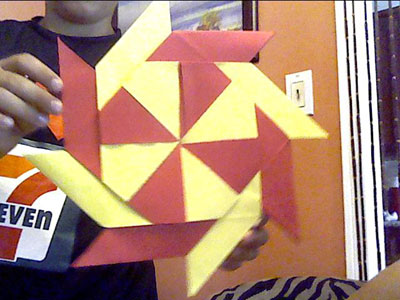 From Melissa in California " A pinwheel on my first try! "
From a reader "An origami pinwheel"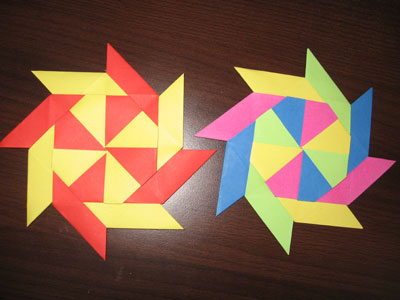 From Seth in Greely: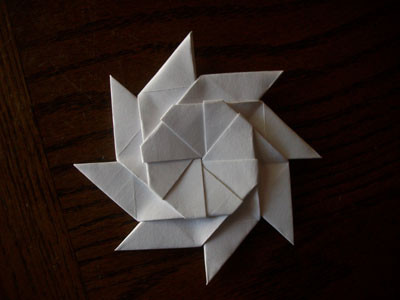 From Ciaran " Origami pinwheel. This is my first origami with colored paper. "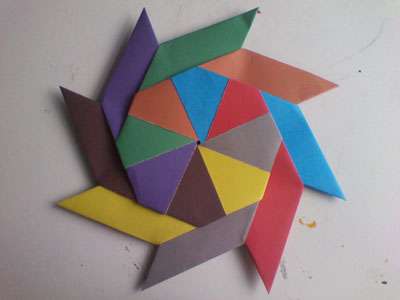 From reader in Pittsburgh " This is an origami pinwheel. "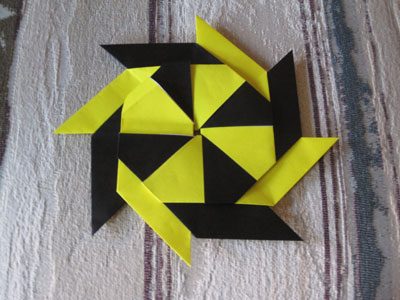 From reader in Cranston: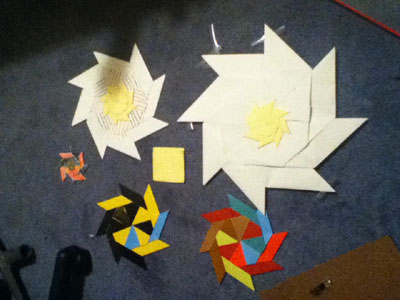 From Clay in Calgary: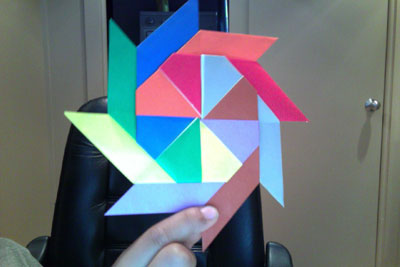 Did you make this origami? If so, upload your photo (2MB limit) via the comment box below. You can login with your Facebook, Twitter, Google or Yahoo accounts.